Past Exhibition
Special Exhibition
The Avant-Garde of "Nihonga"
Location
Art Museum Special Exhibition Gallery (1F)
About the Exhibition
In the late 1930s, a time of turbulent social conditions in Japan, an art form that pursued a new type of expression in the world of "nihonga [Japanese-style painting]" occurred against the creation of traditional aesthetics. This exhibition will introduce this transition of "nihonga" as the first embodied "Avant–Garde" movement in this country.
The new type of work by the "nihonga painters" who were members of the "Rekitei Bijutsu Kyokai", founded in 1938, brilliantly expresses the trend of "The Avant–Garde." Western style painters who influenced and associated with those "nihonga painters" should be focused on as well. However, this activity did not move forward smoothly because of the World War II. This exhibition will review the transition of the activity which became "The incomplete Avant–Garde" due to the expansion of the war, and will also follow the rebirth of the "Rekitei Bijutsu Kyokai" that was named "Pan Real" after the war.
This exhibition includes masterpieces of related painters as well as works which are being exhibited to the public for the first time.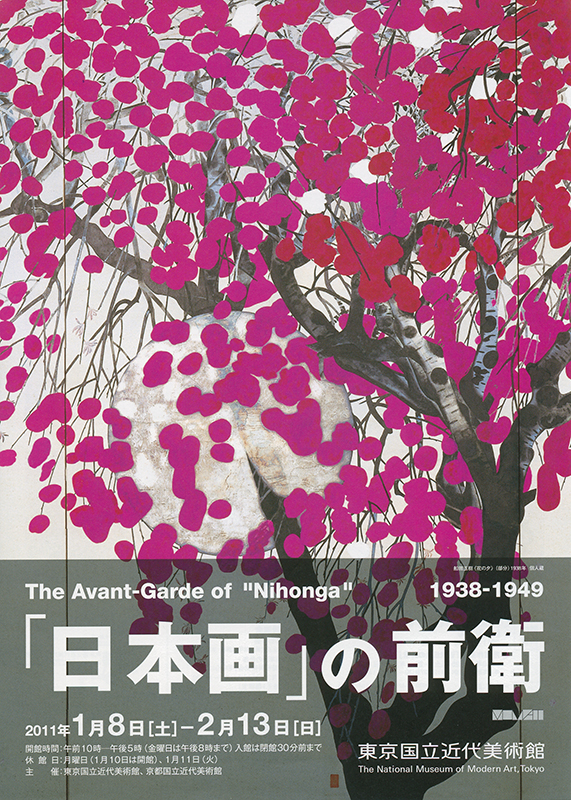 Hours & Admissions
Location

Art Museum Special Exhibition Gallery (1F)

Date

2011.1.8(Sat)-2.13(Sun)

Time

10:00-17:00 (Friday is 10:00-20:00)
*Last admission is 30 minutes before closing.

Closed

Closed on Mondays (except January 10) and January 11, 2011

Admission

Adults: ¥850 (600)
College and university students: ¥450 (250)

*Including the admission fee for Ceramic Design of Sakaegi Masatoshi – Rhythm and Waves and Collection Gallery.
*The price in brackets is for the group of 20 persons or more.
*All prices include tax.
*Free for high school students and under 18.
*Persons with disability and one person accompanying them are admitted free of charge.

Organizer

The National Museum of Modern Art, Tokyo