Past Exhibition
Collection Exhibition
2022-1 MOMAT Collection
The collection exhibition from May 17 to October 2, 2022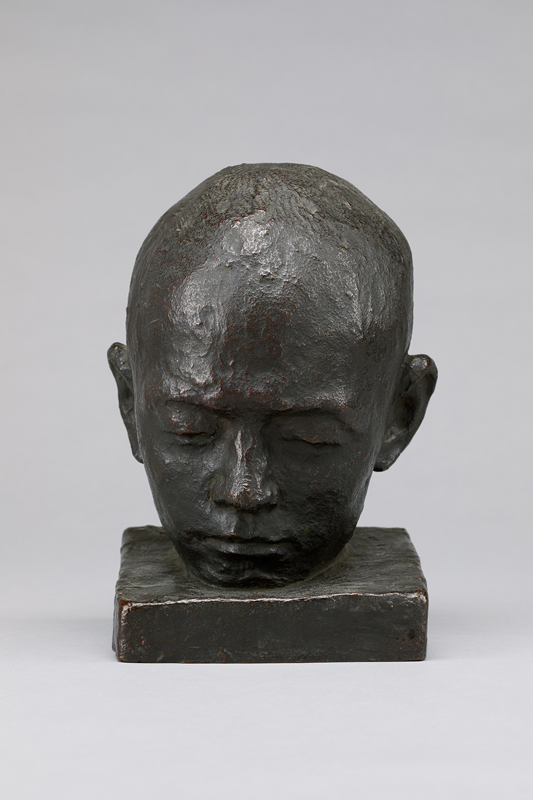 Welcome to the MOMAT Collection! In this exhibition, we introduce currents in Japanese modern and contemporary art from the end of the 19th century to the present day, along with a variety of works from other countries.
The museum opened in 1952, and will celebrate its 70th anniversary on December 1, 2022. Throughout the year, MOMAT Collection exhibitions will look back over these seven decades from various perspectives, and we will also hold exhibitions that look ahead to the future.
Rooms 3, 4, and 5 on the 4th floor feature a special exhibition of works from the collection, with a theme we have been focusing on for some time. With the title What Poems Say, it brings together works related to poetry, and renders visible interactions and links between poetry and the visual arts.
Exhibitions related to the 70th anniversary take place on the 3rd floor. Rooms 7 and 8 showcase ways in which the museum has linked our exhibition and acquisition activities with contemporary art movements since we first opened. In Room 9 we present works by two photographers, Sebastião Salgado (until July 24) and Ishiuchi Miyako (from July 26), accompanied by anecdotes relating to the museum's history of collecting their works.
Also, in Room 11 on the 2nd floor, be sure to see the exhibits related to the Gerhard Richter exhibition on the 1st floor (from June 7).
Translated by Christopher Stephens
---
Important Cultural Properties on display
The National Museum of Modern Art, Tokyo Collection (main building) contains 15 items that have been designated by the Japanese government as Important Cultural Properties. These include nine Nihon-ga (Japanese-style) paintings, five oil paintings, and one sculpture. (One of the Nihon-ga paintings and one of the oil paintings are on long-term loan to the museum.)
The following Important Cultural Properties are shown in this period:
Harada Naojiro, Kannon Bodhisattva Riding the Dragon, 1890, Long term loan (Gokokuji Temple Collection)
Wada Sanzo, South Wind, 1907
Yorozu Tetsugoro, Nude Beauty, 1912
Kishida Ryusei, Road Cut through a Hill, 1915
Nakamura Tsune, Portrait of Vasilii Eroshenko, 1920
Please visit the Important Cultural Property section Masterpieces for more information about the pieces.
About the Sections
MOMAT Collection comprises twelve(or thirteen)rooms and two spaces for relaxation on three floors. In addition, sculptures are shown near the terrace on the second floor and in the front yard. The light blue areas in the cross section above make up MOMAT Collection. The space for relaxation "A Room With a View" is on the fourth floor.
The entrance of the collection exhibition MOMAT Collection is on the fourth floor. Please take the elevator or walk up stairs to the fourth floor from the entrance hall on the first floor.
4F (Fourth floor)
Room 1 Highlights * This section presents a consolidation of splendid works from the collection, with a focus on Master Pieces.
Room 2– 5 1900s-1940s
From the End of the Meiji Period to the Beginning of the Showa Period
A Room With A View
Reference Corner is currently out of service.
Room 1 Highlights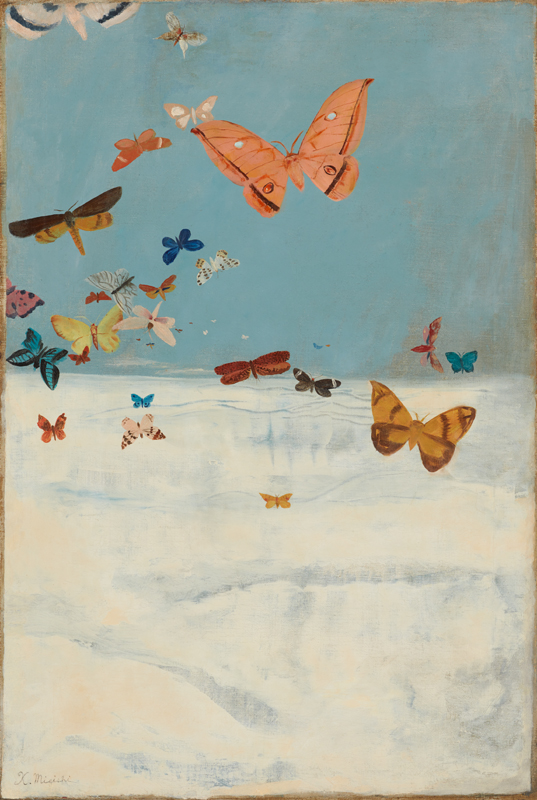 The MOMAT Collection exhibition of works from our permanent holdings features for than 200 items in a 3,000-square-meter space. It opens with the "Highlights" section, featuring highly prized works from the collection.
The exhibition, divided into two terms, begins by showcasing Nihon-ga (modern Japanese-style painting). A centerpiece of the 1st term (until July 24) is Hayami Gyoshu's Diptych: Rapid Waterfalls (1921), acquired last year and unveiled here for the first time. Painted during a period when Hayami was focused on meticulous rendering, this notably experimental work rewards close viewing. The 2nd term (from July 26) presents the splendid duet of two popular favorites, Tsuchida Bakusen's Island Women (1912) and Kawabata Ryushi's Flaming Grass (1930), just in time for the height of summer.
Outside the display cases is an extensive lineup of much-loved works that have come to represent the museum over the years since they joined the collection, including three Important Cultural Properties, Harada Naojiro's Kannon Bodhisattva Riding the Dragon (1890), Yorozu Tetsugoro's Nude Beauty (1912), and Kishida Ryusei's Road Cut through a Hill (1915). This is a rare opportunity to view these works all at once, as they are frequently on loan to other institutions.
Please enjoy this parade of MOMAT all-stars as we celebrate our 70th anniversary.
Room 2 Nature in Modern Art: Light, Brushstroke, Color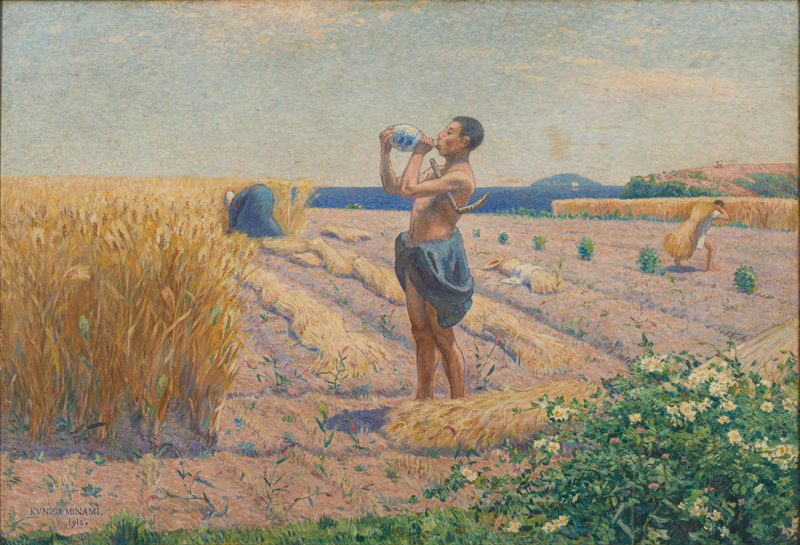 In the modern era, Japanese painters began pursuing their own ways of depicting landscape by first of all seeing things with their own eyes and finding scenery that stirred their hearts, rather than simply producing standardized views of famous places. While struggling to render the light, shade, and color of scenery they saw and experienced firsthand, these painters took on the challenge of capturing nature and people leading their lives amid it, sometimes making use of dynamic brushstroke, sometimes working with a sense of profound tranquility. A sense of modernity can be seen not only in their discoveries of the world outside the studio (landscape and nature), but also in their active endeavors to intervene in things and phenomena that moved them emotionally and spiritually. In each of these artists' diverse approaches to composition and rendering, we can see the gazes they turned toward the world around them and passion they poured into representing it.
Room 3 What Poems Say (1)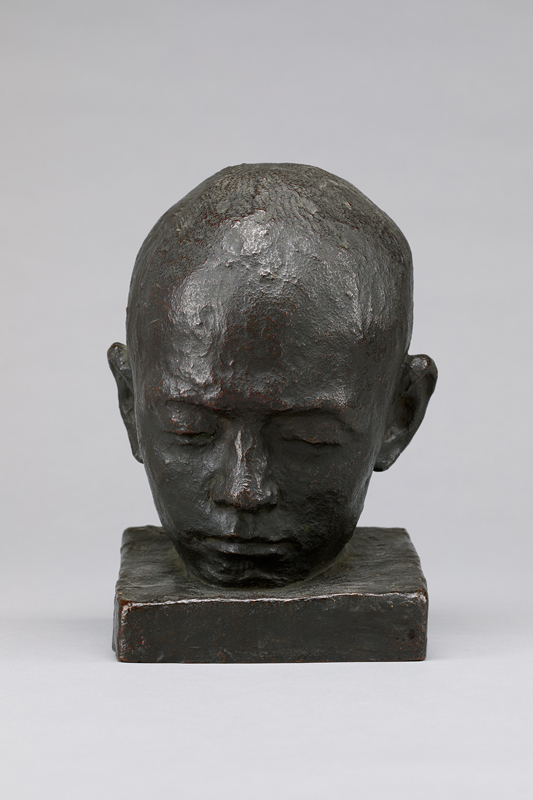 What has become of the glory of poetry? Today, the word "poem" is used all too often to mock someone's words as self-involved navel-gazing, disconnected from reality. Ut picture poesis ("As is painting, so is poetry") is a maxim derived from the ancient Roman poet Horace's "Ars Poetica" (The Art of Poetry), and if poetry is viewed with contempt, the same fate may not be far off for the visual arts. With this in mind, in this MOMAT Collection exhibition we have dedicated three rooms to poetry-related works from the collection. In the past it was not uncommon for artists also to write poetry, as in the example of Takamura Kotaro on view in this room, or for poets to write art criticism as well, as did Charles Baudelaire in 19th-century France and Takiguchi Shuzo in 20th-century Japan. Poetry has long been the compatriot of art, providing aspirations and inspiration. While this is a modestly sized exhibition, we hope it will offer opportunities to reflect on the interactions and interconnectedness of poetry and art.
Room 4 What Poems Say (2)
Here we present poetry-related works by Komai Tetsuro, a printmaker known as the "poet of the copperplate." Komai was strongly affected by French literature and depicted lyrical subjects such as dreams and visions, drawing much attention as soon as he made his postwar debut. Komai's prints, employing etching and various other copperplate engraving techniques to produce rich and delicate tonal variations, quickly invited comparisons to music and poetry, and he was involved in many collaborative works featuring poems and illustrations as well.
Among these, on view in this room are his first illustrated poetry book The Songs of Maldoror; The Songs of two particularly lauded volumes produced in collaboration with the poet Ando Tsuguo, Calendrier ("calendar" in French) and And They Called It Hanka (Envoi); and Face with Ants (with poems by Maruyama Kaoru), in which sandpaper was used to create subtle textures. In Komai's words, "Copperplate printmaking inherently contains temporal and musical elements, in terms of both technical properties and mode of expression." Please enjoy these "musical" duets between the words of poets and images created through deft control of the corrosion of metal.
Room 5 What Poems Say (3)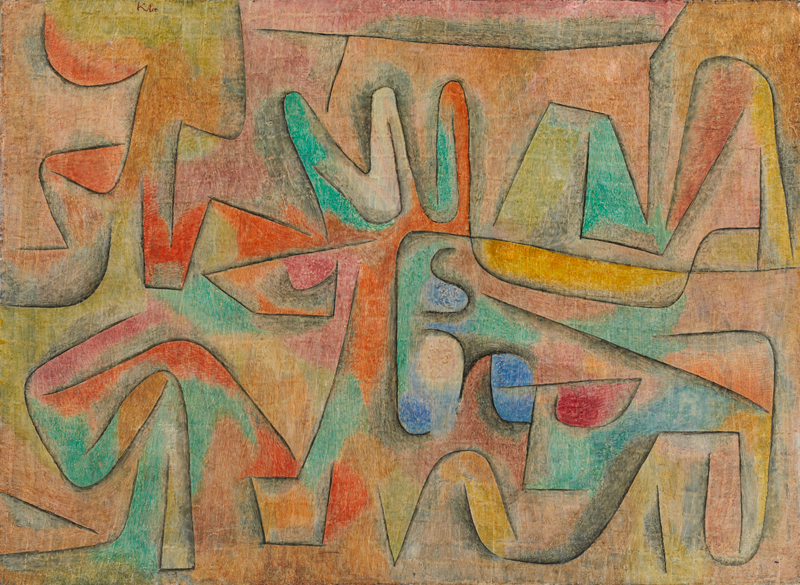 By combining colors and shapes according to certain systems, artists create rhythms, express unknown realities, and seek to unravel aspects of the world that have gone unnoticed before. Artists produce visual poetry, drawing on powers resembling those of other fields such as music, mathematics, science, and even the supernatural. Despite differences between the natures of artistic and linguistic expression, the word "poetry" most aptly describes such complex mechanisms. In abstract art, relations of color and shape exert palpable forces on the human pysche, and Surrealism, which first emerged as a poetic movement, sought to interpret the realities we share in novel ways. How much do the "poetic" titles of works of art have in common with "poetry" as we currently understand it?
This room focuses in part on the ways in which poetry offered people spiritual refuge amid the volatile chaos of wartime. While poetry tends to dismantle established structures, conversely, it also served to strengthen community ties.
---
3F (Third floor)
Room 6-8 1940s-1960s
From the Beginning to the Middle of the Showa Period
Room 9 Photography and Video
Room 10 Nihon-ga (Japanese-style Painting)
Room to Consider the Building (Sol LeWitt, Wall Drawing#769)
Room 6 The War Years: Focus on Restored War Record Paintings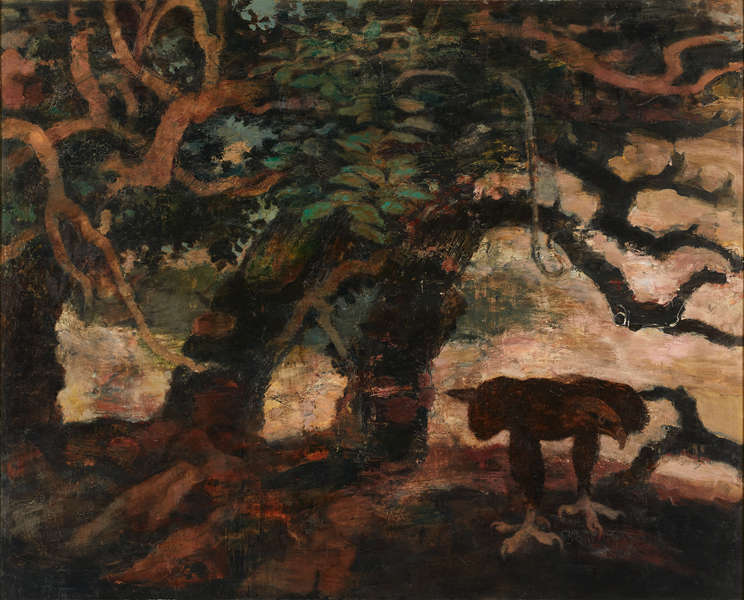 After the National Mobilization Law of 1938 called on all Japanese citizens to join in the war effort, artists were compelled to document the conflict in War Record Paintings. After the war's end, the US-led Allied Powers requisitioned the 153 major works in this genre that survived, and transferred them to the United States in 1951. However, requests from Japan for their return eventually paid off, and in March 1970, the two countries finally agreed that the paintings would be repatriated on "indefinite loan" from the US government to the Japanese government.
Depending on the degree of damage, restoration work was carried out, but as traces of these restorations were becoming increasingly noticeable due to deterioration over time and other factors, new restorations were carried out and the frames replaced in recent years. This part of the Collection exhibition features art from the World War II years, with a focus on the restored War Record Paintings.
One highlight of this section is the evolution of Fujita Tsuguharu's artistic concerns as the war progressed, from his remarkably colorful yet pale-hued early War Record Paintings, in which battle scenes unfolding amid vast landscapes took precedence over individual human figures, to the sepia-toned vistas of battle to the death, with figures intricately entangled, as the war neared its end.
Room 7 Looking Back on 70 Years: Contemporary Context and Collecting (1) –The 1950s and 1960s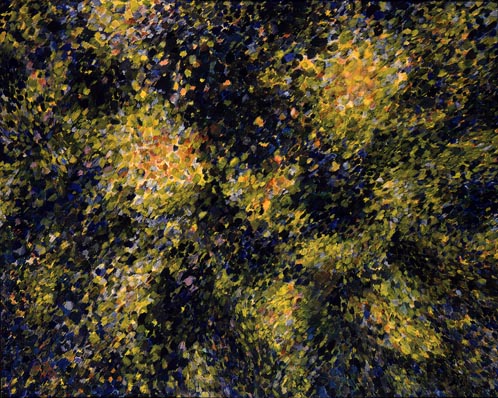 MOMAT will celebrate its 70th anniversary in December of this year. To mark this occasion, we have devoted a room to surveying the museum's history through the lens of its collection. It focuses on how the museum has evolved in parallel with contemporary art since its opening in 1952, and how it has linked exhibitions and acquisitions over the years.
Sato Churyo's Man from Gumma (1952), purchased during the museum's first year in operation, was shown in the 1953 exhibition Modern Sculpture. The work of Ueki Shigeru and Yamaguchi Takeo was purchased from among those appearing in Living Nineteen Japanese Artists (1955), that of Aso Saburo in Postwar Outstanding Works of Art (1959), and that of Ei-Kyu in Exhibition of Four Artists (1960). Here we also present four early prizewinning works from the Yasui Award Exhibition, which was launched in 1957 to commemorate the painting career of Yasui Sotaro and became a gateway to fame for young, emerging painters.
From its early years, the museum also turned its attention to artists who were active overseas after World War II. The works of Sugai Kumi and Shimada Shizu were featured in the 1965 Exhibition of Japanese Artists Abroad: Europe and America.
Room 8 Looking Back on 70 Years: Contemporary Context and Collecting (2) –The 1960s to 1980s
MOMAT has been a pioneer in showcasing works that deviate from traditional frameworks of art, in exhibitions such as Adventure in Today's Art of Japan (1961) and August 1970: Aspects of New Japanese Art (1970). However, there were many works that the museum was unable to acquire at the time, to its later regret. On the other hand, in the field of printmaking, works acquired in conjunction with the International Biennial Exhibition of Prints in Tokyo, held 11 times between 1957 and 1979, have provided valuable understanding of the diverse development of postwar prints.
The museum moved from Kyobashi to Takebashi in 1969, and marked the opening of the new location with the exhibition Contemporary Art: Dialogue between the East and the West, presenting innovative art from Japan and abroad. Works in the collection by Arakawa Shusaku, Saito Yoshishige, Takamatsu Jiro, Miki Tomio, and Wakabayashi Isamu were shown at that time. The exhibition series A Perspective on Contemporary Art, launched in 1984, involved active efforts to conduct research on younger artists, feature them in exhibitions, and eventually acquire their works. Shown here are works by Kuroda Aki, Tatsuno Toeko, and Nakamura Isao acquired in connection with Metaphor and/or Symbol, the first exhibition in the series.
Room 9 (First half: May 17–July 24, 2022)
Sebastião Salgado, Latin America
"I would dream of this enchanted continent, with all the fantasy inherited from a land of incredible tales…its dead so alive in the imagination of the living: that place where it is so difficult to know if we are of this world or another, where death is the inseparable sister of everyday life." (Preface, Other Americas)
Photographer Sebastião Salgado is known for pictures shot on site in locations around the globe, such as the series Workers and Genesis. His early series Latin America was taken in various parts of South America between 1977 to 1984, when Salgado was based in Europe after leaving his home country of Brazil in self-imposed exile after criticizing its military dictatorship.
As the preface to the book of these photographs states, the world unfolding in this series is unique in that it juxtaposes the presences of people living vigorously amid harsh natural environments in South America, Salgado's beloved home continent, with a somewhat fantastic and unreal atmosphere. The Portuguese word saudade, which describes bittersweet mixed emotions toward lost or distant things, may aptly describe these photographs.
Room 9 (Second half: July 26–October 2, 2022)
Ishiuchi Miyako, Endless Night
Ishiuchi Miyako's early series Endless Night captures buildings in former red-light-districts throughout Japan. The Anti-Prostitution Act, which came into force in 1958, abolished designated red-light districts, and when Ishiuchi shot them in the late 1970s, these former brothels had been repurposed as apartment houses and so forth. Ishiuchi described these unique urban environments as "neighborhoods where time stopped in 1958." Even so, the buildings retained decorations and other elements through which remnants of the past could be glimpsed. Particularly evocative of memories pervading the interiors are parts that came into direct contact with people's hands and feet, such as corridors, stairs, and handrails. They are worn away and polished to a black luster in places by being repeatedly stepped on and touched. Meanwhile, Ishiuchi also turned her attention to tiles, which coldly refuse to preserve such vestiges of the body. On the contrary, due to its material properties, tile leaves its own lasting tactile impression, hard and cold, on human flesh.
This concern with tactile memory is an essential aspect of Ishiuchi's work. In the late 1980s, Ishiuchi began work on a series of close-ups of parts of the body, and premonitions of this later development can be seen in the Endless Night series.
Room 10 (First half: May 17–July 24, 2022)
Season of Fragrant Breezes: Marking 40 Years Since the Death of Kuroda Tatsuaki
As one Japanese idiom would have it, May is a month of fresh breezes. But in referring back to Japanese literature, fragrant breezes have not always been associated with May. The Kamakura Period poet Fujiwara Yoshitsune (1169–1206) used the term in a waka poem to refer to cherry blossoms in spring ("The day has again come when the cherry blossoms come into view / In my hometown, the flowers are illuminated by the moon through the trees"), and also in one about summer oranges ("The wind carries the fragrance of oranges to the eaves / As the years pass, oranges and hare's-foot ferns always arrive together"). In haiku, Masaoka Shiki's poem, "Fragrant winds and pine shadows on naked forms," is set on the island of Shijushima in Ehime Prefecture, and the distinct shadows cast on naked men are so dazzling that they fit in perfectly with the fragrant breezes of early summer. Here we are pleased to present the works of Nihon-ga (modern Japanese-style) painters depicting the radiant period from early to mid-summer.
Also, in the space close at hand there is a special exhibit on Kuroda Tatsuaki, the first wood artisan to be certified as a Holder of an Important Intangible Cultural Property (Living National Treasure). The Mingei (Folk Crafts) movement spearheaded by Yanagi Muneyoshi (Soetsu) resonated with Kuroda, and through interactions with friends, he turned his attention to various folk crafts and works from the past, through this research establishing a unique style that maximizes the beauty of natural materials. To mark the 40th anniversary of his passing on June 4, we present all of Kuroda's works in the museum collection, including new acquisitions.
Room 10 (Second half: July 26–October 2, 2022)
Drawing with a Brush / Admiring Blue
In this exhibit in Room 10, we present a group of works in which brush and ink is the main mode of expression. While many people view brush and ink (sumi) as an essential part of East Asian painting, since the moro-tai (lit. "vague style") set out to eliminate outlines in modern Japanese painting at the beginning of the 20th century, the use of brush and ink is no longer a necessary prerequisite. What these artists, who chose expressive forms revolving primarily around line drawing, had in common was a desire to revive and preserve tradition.
The rediscovery and reexamination of linear expressions in nanga, hakubyo (paintings made up solely of thin line drawings) in classical Japanese yamato-e, and ancient East Asian styles has bolstered the diversity of modern Japanese painting.
Also, in the space close at hand is an exhibit of celadon and bluish-white porcelain, refreshingly cool to the eye. Celadon is a type of porcelain in which trace amounts of iron in the base material, and the glaze, react during reduction firing to produce a characteristic blue or blue-green color, while blue-and-white porcelain is actually a variety of white porcelain in which glazes accumulating in carved patterns or other indentations produce a bluish cast. In China, masterworks in both categories have been produced in each era and region, and have enchanted many in Japan since ancient times. Since the dawn of the modern era, many Japanese ceramic artists have also continued to work with blue, taking up the challenge of transcending the achievements of past masters.
---
2F (Second floor)
Room 11-12 1970s-2010s
From the End of the Showa Period to the Present
Gallery 4
New Acquisition & Special Display | Pierre Bonnard, Landscape in Provence
* A space of about 250 square meters. This gallery offers cutting-edge thematic exhibitions from the Museum Collection, and special exhibitions featuring photographs or design.
Room 11 Gerhard Richter and Germany
In conjunction with the Gerhard Richter exhibition (opening June 7) in the special exhibition gallery, we present Richter's works from the museum collection along with those of German artists who are his contemporaries.
Richter was born in Dresden, in the eastern part of what was still a united Germany, in 1932. After the post-World War II partitioning of the country, he moved to West Germany in 1961 just before the Berlin Wall was built, and studied at Kunstakademie Düsseldorf. Georg Baselitz, a painter of nearly the same generation, was also born in eastern Germany and followed a similar career path, moving to West Berlin in 1957. Richter and Baselitz, active in one of the most politically turbulent regions of the 20th century, are recognized today as among the most prominent German postwar painters.
In light of the importance of photography in Richter's working process, exemplified by works such as Sils Maria (entrusted to the museum), we also present works by important German photographers. Bernd and Hilla Becher (until July 24) taught at Kunstakademie Düsseldorf around the time Richter was teaching there in the 1970s and 1980s. Among the Bechers' students were Andreas Gursky and Thomas Ruff (both from July 26).
Room 12 Landscape of the 1990s: Cities, Art, and Technology
The 1990s are thought of as a decade when the cultural foundations of today's world were laid. For Japan, 1995 in particular was a crucial turning point: it was the year of the Great Hanshin-Awaji Earthquake and the Aum Shinrikyo sarin gas attack on the Tokyo subway, the 50th anniversary of the end of World War II, and the year the country first connected to the Internet. Artists react to such rapidly changing times, in which major historical and societal events often have a direct impact on everyday life, while exploring their own modes of expression.
For example, in the 1990s, photographers were particularly keen on capturing the swiftly changing urban landscape in the aftermath of the late 1980s economic bubble. It is also notable that this was a transitional period in which new technologies were coming into widespread use, and the introduction of digital technologies and improvement of communication networks expanded creative possibilities in the fields of art and design.
As our living environments and means of acquiring information have changed, issues that society has continuously faced since the 1990s strike us differently today than they did at the time. In this section, we showcase art and design relating to events and social conditions of the 1990s, and explore some of the creative expression unique to that era.
About the Exhibition
Location

Collection Gallery, from the fourth to second floors

Date

May 17–October 2, 2022

Time

10:00 AM–5:00 PM (Fridays and Saturdays open until 8:00 PM)
Extended Opening Hours: 10:00 AM-8:00PM during September 25–October 1 (except September 27)
*Last admission: 30 minutes before closing.

Closed

Mondays (except July 18, September 19 and 26), July 19 and September 20September 27

Ticket

Online ticket is recommended to avoid lines forming at the entrance.
Online purchase: 【e-tix】
Tickets can be purchased on site at the ticket counters, subject to their availability.

Admission

Adults ¥500 (400)
College and university students ¥250 (200)
*The price in brackets is for the group of 20 persons or more. All prices include tax.
Free for high school students, under 18, seniors (65 and over), Campus Members, MOMAT passport holder.
*Show your Membership Card of the MOMAT Supporters or the MOMAT Members to get free admission (a MOMAT Members Card admits two persons free).
*Persons with disability and one person accompanying them are admitted free of charge.
*Members of the MOMAT Corporate Partners are admitted free with their staff ID.

Discounts

Evening Discount (From 5:00 PM on Fridays and Saturdays)
Adults ¥300
College and university students ¥150

Organized by

The National Museum of Modern Art, Tokyo