Past Exhibition
Special Exhibition from the Museum Collection
New Acquisition & Special Display: Pierre Bonnard, Landscape in Provence
Location
Art Museum Gallery 4
About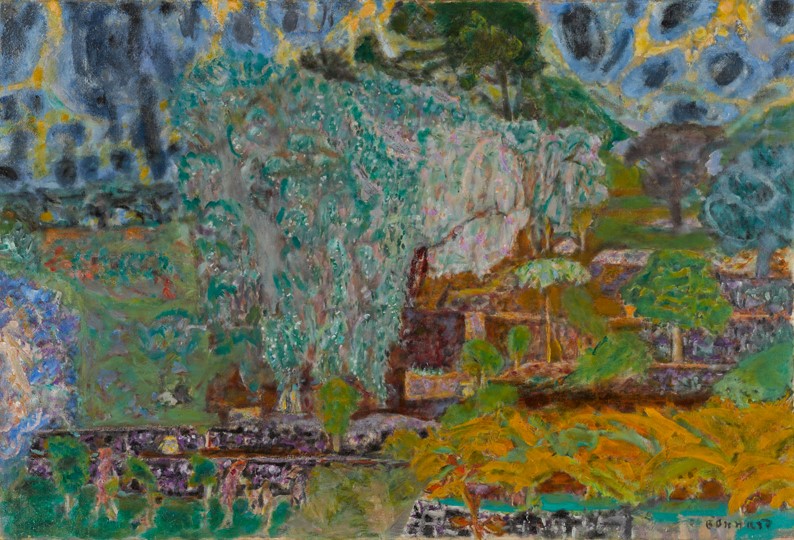 We are delighted to unveil for the first time Pierre Bonnard's painting Landscape in Provence (1932), which the museum acquired in 2020.
Bonnard (1867–1947) was a French painter active from the late 19th through the mid-20th century. Bonnard's style changed several times during his long career of nearly 60 years, but especially his works featuring a vivid palette and highly abstract approach have been described as "adventures of the optic nerves" (in Bonnard's own words) and as "paintings among paintings." Henri Matisse, one of the 20th century's greatest painters, spoke prophetically of the innovative nature of Bonnard's work, saying "Yes! I certify that Pierre Bonnard is a great painter, for today and assuredly for the future."
In this room, we invite you first and foremost to savor the charms of Landscape in Provence to your heart's content. We also hope that the juxtaposition of Landscape in Provence and landscape paintings by Japanese artists will offer an opportunity to appreciate Japanese modern and contemporary art from a new perspective.
Hours & Admissions
Location

Art Museum Gallery 4

Date

March 18–May 8, 2022

Time

10:00 AM–5:00 PM (Fridays and Saturdays open until 8:00PM)
Extended Opening Hours: 10:00 AM–8:00 PM during April 29–May 8
*Last admission : 30 minutes before closing.

Closed

Closed on Mondays except March 21, 28, and May 2; and March 22

Ticket

Advance ticket is recommended to avoid lines forming at the entrance.
Online purchase: 【e-tix】
Tickets can be purchased on site at the ticket counters, subject to their availability.
The ticket admits you also to New Acquisition & Special Display: Pierre Bonnard, Landscape in Provence.

Admission

Adults ¥500 (400)
College and university students ¥250 (200)

*The price in brackets is for the group of 20 persons or more. All prices include tax.
Free for high school students, under 18, seniors (65 and over), Campus Members, MOMAT passport holder.
*Show your Membership Card of the MOMAT Supporters or the MOMAT Members to get free admission (a MOMAT Members Card admits two persons free).
*Persons with disability and one person accompanying them are admitted free of charge.
*Members of the MOMAT Corporate Partners are admitted free with their staff ID.

Discounts

Evening Discount (From 5:00 PM on Fridays and Saturdays)
Adults ¥300
College and university students ¥150

Organizer

The National Museum of Modern Art, Tokyo