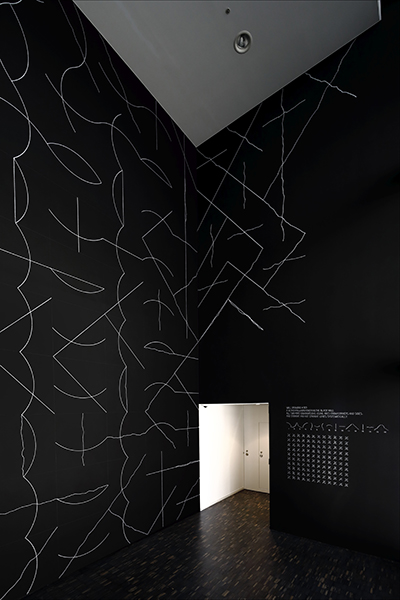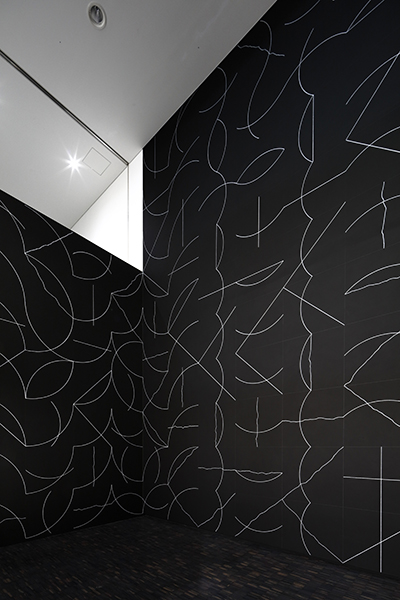 About Sol LeWitt's Wall Drawing #769
In fiscal 2018, the museum acquired one of Sol LeWitt's (1928–2007) wall drawings. The work has now (December 2020) been completed in the "Room to Consider the Building," located on the third floor next to the Collection Gallery.
LeWitt, a key figure in Minimalist and Conceptual art who began working in New York in the 1960s, created over 1,200 wall drawings over the course of his career. But that does not necessarily mean that LeWitt drew all of the works himself. As the artist explained, "The artist conceives and plans the wall drawing. It is realized by draftsmen (the artist can act as his own draftsman); the plan is interpreted by the draftsman. There are decisions that the draftsman makes, within the plan, as part of the plan. Each individual, being unique, if given the same instructions would understand them differently and would carry them out differently." (Art Now, June 1971)
As the text suggests, LeWitt's wall drawings are executed by a draftsman as specified by the artist (or his estate). In other words, the works are the product of a relationship, recalling that of a composer and a performer. Moreover, the use of this type of system presents the viewer with questions regarding the foundations of art, such as the role of the creator, and the relationship between the concept and the physical entity.
As the title of the wall drawing, which adorns the museum wall, explains, the work is a grid measuring approximately 90 by 90 centimeters. Each square is made up of a two-part combination, containing 16 types of arcs, and straight and non-straight lines, with a total of 120 patterns. The rhythm, arising from the repeated and divergent figures, presents the eye with a comfortable stimulating experience akin to a visualization of minimal music.
In the past, the work was made for exhibitions of LeWitt's work that were held in Paris in 1994 and Madrid in 1996 (both were erased after the exhibitions).This version was created by the following:
Drawn by Cho Sachiko
With assistance from Ishimura Masami and Hirakawa Toshiko
Release date :