Past Exhibition
Special Exhibition
Suzuki Kiyoshi: Hundred Steps and Thousand Stories
Location
Art Museum Gallery 4
About the Exhibition
Suzuki Kiyoshi (1943–2000) is known as a photographer who never ceased exploring, in his own unique style, the possibilities of the medium called photography books. In his thirty-year career starting at the end of the 1960s, Suzuki compiled eight books, many of which were designed and bound by the photographer himself.
"Book" is an important keyword in reviewing Suzuki's works. He was a book lover and often drew inspiration for his photography from his favorite books. Moreover, all of his photographic collections deserve to be called elaborate "books."
Using motifs such as places related to his origin in a coal town, contemporary society, time on travel and literary works, Suzuki created a multilayered world where reality before our eyes, dreams and remembrance interwove each other. His collections achieved the extraordinary depth worth repeated close reading.
In addition to presenting pieces taken from his eight photo books including Soul and Soul (1972), Mind Games (1982) and S Street Shuffle (1988), this exhibition tries to obtain an overall picture of the world of Suzuki's photography by illustrating the handwork-based creation process unique to Suzuki with dummy books and hand-drawn plans for his solo shows.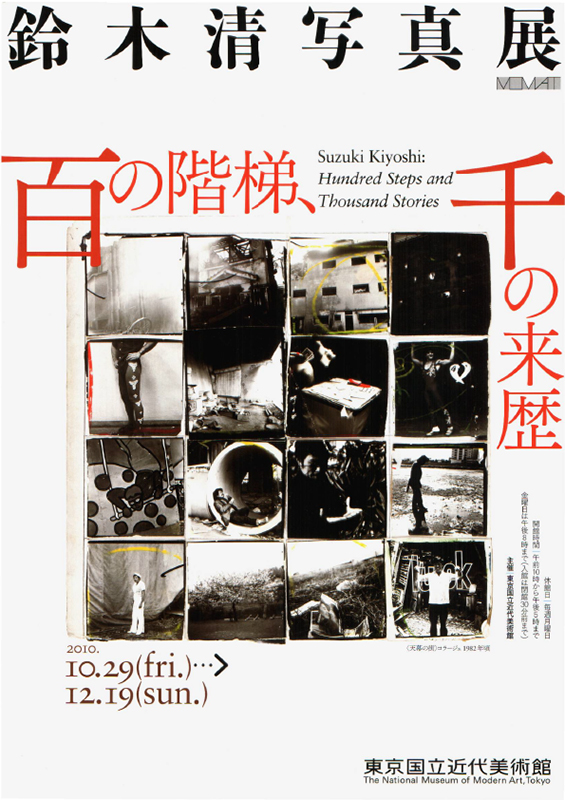 Hours & Admissions
Location

Art Museum Gallery 4

Date

2010.10.29(Fri)-12.19(Sun)

Time

10:00 – 17:00
※Last admission is 30 minutes before closing.

Admission

Adults ¥420 (210)
College and university students ¥130 (70)

*Including the admission fee for Permanent Collection.
*The price in brackets is for the group of 20 persons or more.
*All prices include tax.
*Free for high school students, under 18, seniors (65 and over), Campus Members, MOMAT passport holders.
*Persons with disability and one person accompanying them are admitted free of charge.

Free Admission Days

Free on November 3, 7, and December 5.

Organizer

The National Museum of Modern Art, Tokyo