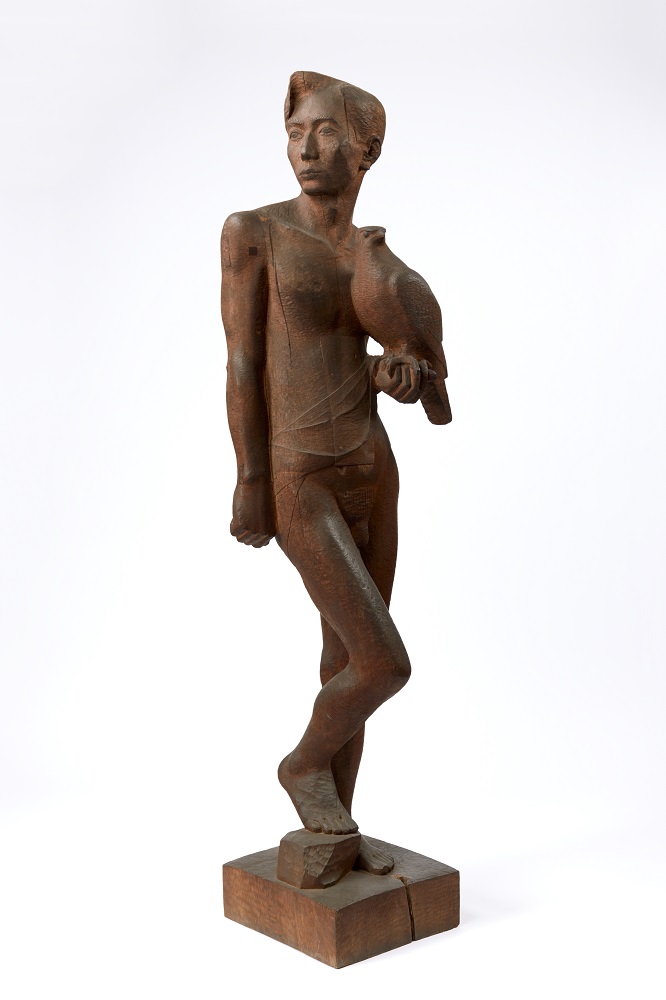 Tsuji Shindo is best known for his clay sculptures. Inspired by their contemporaries in the avant-garde ceramics group Sodeisha, he and his close friend the sculptor Horiuchi Masakazu produced abstract forms that had a significant impact on postwar art in Japan. Two of Tsuji's works already in the museum's collection are among these abstraction, but this carved wood sculpture represents a human figure. A seminal work that won first prize at the 29th Inten (Imperial Art Exhibition) in 1942, it was donated by Tsuji's patron Kuroda Jinzaburo, a fertilizer wholesaler in Osaka.
Otomo no Yakamochi, known as one of the Thirty-Six Immortals of Poetry, was the provincial governor of Inaba Province (present-day eastern Tottori Prefecture), and may have been familiar to Tsuji, who was from Tottori. The fact that the figure is holding a falcon is probably based on the fact that Yakamochi was particularly fond of falconry and is known to have composed poetry about the birds. The heightened nationalism of the war years no doubt encouraged the artist to select this subject from Japan's distant past associated with the 8th-century Man'yoshu poetry anthology. In 1941, the previous year, Tsuji had made statues representing Japanese settlers in Manchuria.
Be that as it may, Otomo no Yakamochi is a rare choice of subject, especially as a nude. Fellow sculptor Hirakushi Denchu wrote that it was "an unexpected idea,"1 and the work's individual elements are indeed odd: the falcon dangerously perched on his bare hand, the thin fabric adhering to the abdomen seemingly by chance, the pubic hair resembling a broom rendered with vertical lines. The overall impression, however, is a dignified one due to the evenness of the classical contrapposto pose, with the figure describing a gentle S-curve.
Perhaps the most notable feature is the rawness of the finish, with chisel marks, wood filling, and joints between sections remaining visible. According to Horiuchi Masakazu:
ー"He was not satisfied with the orthodox style of wood sculpture common at the Inten exhibitions, executed with precision using well-sharpened chisels, and he sought a more rugged technique, not so much rustic as raw and powerful… He left the wood filling in the joints clearly visible, as if intentionally making the sculpture ugly… His idea was that the material was wood, and it would be stronger as a work of art if the wood was shown in its true form."2
Around 1940 Tsuji began experimenting with "direct carving," taking the chisel to the wood without relying on a model. He wrote, "It is fine for there to be sculpture that reproduces, but there should also be sculpture that represents."3 For Tsuji, this work was a prototype in a subjective, expressionist mode.
The notion of "sculpture that represents" was influenced by Hashimoto Heihachi, who was expected to accomplish great things in wood sculpture but died prematurely in 1935 (Hirakushi's comment quoted above also describes Tsuji's work as "inheriting the style of the late Hashimoto Heihachi," and Horiuchi himself was also strongly interested in Hashimoto's work.) This is an important example of sculpture from the wartime period, and calls for further research.
[Notes]
Hirakushi Denchu, "Tsuji and Me," June 18, 1949. Quoted in Ozaki Shinichiro, "The Work of Tsuji Shindo: To the Far Side of Sculpture," Shindo Tsuji: A Retrospective exh. cat., 2010.
Horiuchi Masakazu, "Model, Image, No-Mind," Tsuji Shindo: Genius of Contemporary Sculpture exh. cat., 1983.
Tsuji Shindo, "Complexity and Simplicity," Ceramic Sculpture of Tsuji Shindo, Kodansha, 1978.
---
(Gendai no me, Newsletter of The National Museum of Modern Art, Tokyo No.637)
Release date :