Past Exhibition
Collection Exhibition
Crafts Gallery for Kids x Adults: Furnishings-Forms to be HAPPY
About
Once we decide where to live, then how do we furnish the rooms? Furniture, lighting, fabrics, containers, dishes, maybe an ornamental object of some sort. "Furnishings" is a word for the utensils, furniture, and decorative pieces we want around us, though it is perhaps rarely used today. It is still fun, however, to think about what furnishings we want to arrange in our rooms. And not just when we furnish a new place—changing patterns to suit the season or just decide, on a whim, to add a doll to the interior, we find ourselves smiling. Why? Because we imagine that our rooms have become a bit more stylish, a bit more happy. That image permeates the things with which we surround ourselves. This exchange of images creates a bridge between the users and the makers of our furnishings. In many cases, these movements are filled with knowledge, courage, and love fostered by a person's history.
Something beyond painfully strict calculations is at the heart of our furnishings, and the crafts are at the heart of them. Actually, many objects have the power to breath fresh air into a space, just by placed, after careful calculation, there. Before we even notice it, a room lights up, filled with a calm presence we experience with a sense of delight.
Why not bring your children with you this summer to enjoy crafts together somewhere? This year marks the 40th anniversary of the opening of the Crafts Gallery, the National Museum of Modern Art, Tokyo. To celebrate, we have created this special exhibition where children and adults can enjoy and learn about crafts together. There is so much to see, to learn and be happy about. Filled with happiness when you leave the Craft Gallery, you may find inspirations, ideas for new ways to make your own rooms happier, welling up inside you. Come. Enjoy. Be inspired.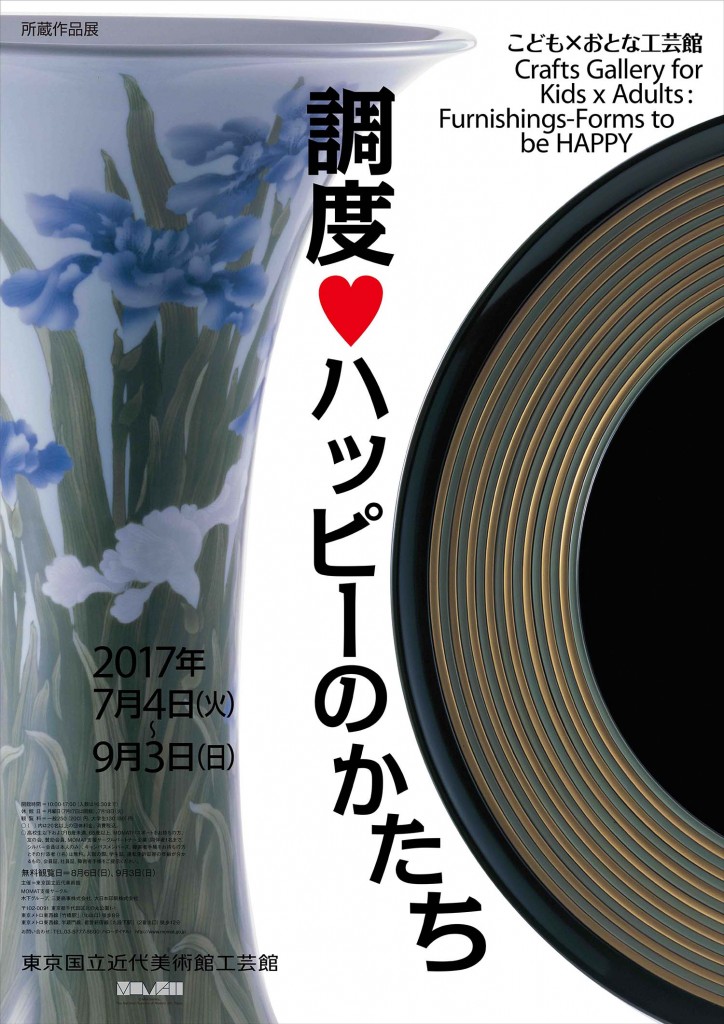 Events
Gallery Talk
Free Program ( But Museum admission required. ) *Offered in Japanese only
Touch & Talk: Guided by Volunteer Staff Members
Looking at craft pieces, you may wonder what they are made of, or how they are made. You may also want to touch them. To meet such requests, Touch & Talk programs are given at the Crafts Gallery by volunteer docent. Since pieces and topics in focus vary each time offered, you can enjoy participation any number of times. We look forward to your joining us.
Date

Wednesdays and Saturdays during exhibition periods.
Free Program ( But Museum admission required. ) *Offered in Japanese only
●English guide is available upon request.
Hours & Admissions
Date

July 4, 2017 – September 3, 2017

Time

10:00 – 17:00
※Last admission is 30 minutes before closing.

Closed

Mondays (except July 17), July 18, 2017

Admission

Day ticket (Group of 20 persons or more)
Adults ¥250(200)
Students (college/university) ¥130(60)

*All prices include tax.
Free for high school students, under 18, seniors(65 and over), Campus Members, MOMAT passport holders.
Persons with disability and one person accompanying them are admitted free of charge.

Free Admission Days

August 6, September 3, 2017

Organizer

The National Museum of Modern Art, Tokyo