The National Crafts Museum
The National Crafts Museum specializes in modern and contemporary crafts and design. The museum is located within the Kenrokuen Area Cultural Zone in the heart of Kanazawa City in Ishikawa Prefecture where the Kenrokuen Garden, Ishikawa Prefectural Museum of Art, the 21st Century Museum of Contemporary Art, Kanazawa, and other facilities are located. As a center for promoting the culture of crafts, the National Crafts Museum collects and safeguards works and materials, organizes exhibitions and various learning programs based on its own research.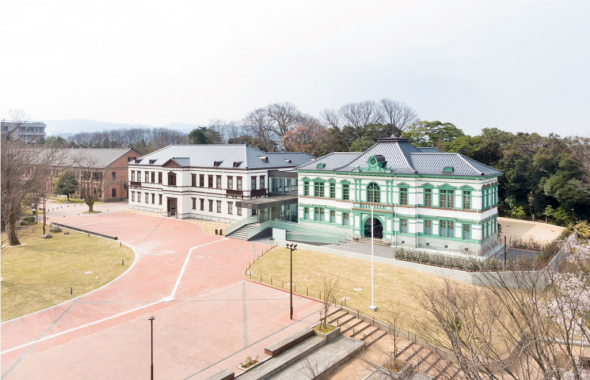 1.Collection
The museum collects Japanese and overseas crafts as well as design works dating from the end of the 19th century to the present with the aim of enriching its systematic collection of modern and contemporary crafts. The museum also lends works from its collection to museums in Japan and overseas.
2. Art Library
As a specialized library holding materials on crafts and design, the Art Library at the National Crafts Museum collects books, exhibition catalogs, and a wide variety of art reference books and makes them available for viewing by the public. The library also shares the outcomes of the museum research online through the repository of the National Museum of Modern Art, Tokyo.
3. Research
Aiming to promote and enhance fine arts practice, researchers affiliated with the museum engage in research, occasionally in collaboration with other institutions. The outcomes are communicated through exhibitions, exhibition catalogs, lectures, the MOMAT newsletter Gendai no Me, research bulletins, catalogs of holdings, research reports, or through publications and lectures organized by external organizations.
4. Exhibitions
The museum organizes collection exhibitions, special exhibitions, or joint exhibitions.
Collection Exhibitions: For these exhibitions, we select about 100 pieces on the basis of history and specific themes from our collection of more than 4000 works including ceramics, glass, lacquerware, woodwork, bamboo crafts, dyeing and weaving, dolls, metalwork, industrial design, graphic design.
Special Exhibitions and Joint Exhibitions: These exhibitions show Japanese and foreign crafts and design works based on specific themes.
In addition, the MOMAT Collection exhibition of works held at the National Museum of Modern Art, Tokyo periodically exhibits crafts and design works.
5. Education and Outreach
As well as organizing lectures and gallery talks to accompany the exhibitions, our volunteer guides also provide online tours of the collection. We organize workshops for families, including preschool children, online and at the museum. We also provide detailed appreciation programs tailored to the purposes and characteristics of school groups. Lessons to prepare students for visits are available via distance learning. We also organize and operate research and training for teachers, appreciation in English, workshops and talks for corporations.