Past Exhibition
Collection Exhibition
Crafts Gallery for Kids x Adults: Heat and Pressure from the Museum Collection
About
We live our lives—on everyday and special occasions—with craft objects. Just think of your favorite tea cup. Blowing on the steam rising from it as you sip your tea is soothing, and the cup's familiar texture helps create a relaxing moment. It's such a comfortable object, part of your habitual environment. But that cup, which has become so familiar, so taken for granted, has gone through a process of being heated to a temperature tens of times hotter than the tea you pour into it. And being fired in the kiln and the forming process that proceeded it involved resisting pressure and at the same time incorporating that force in the cup's body. Now think about picking up that cup, conscious of the heat and pressure that have formed it. You may see the cup you thought you knew so well somewhat differently.
When we visit the places where craft objects are made, we realize that how heat and pressure are applied is often decisive. Take the color called "Japan blue," the blue produced through indigo dyeing, for example. It results from the use of sukumo, a dye made of fermented indigo leaves. That fermentation involves heat: the fermentation vat will stay at 70 degrees centigrade or even hotter. And the heat is joined by pressure: countless designs can be produced by binding, stitching, folding, twisting, or compressing part of the fabric before placing it in the dye vat. That pressure-based dyeing method, known as shiborizome, shaped-resist dyeing or tie-dyeing, is an ancient technique that can be traced back to examples from the eighth century in the Shōsōin Treasure House.
Or consider the color and luster of a light yet sturdy white bamboo basket. The bamboo's oils were extracted by simmering it or toasting it over a flame. Then the bamboo was exposed to sunlight so that its color changed from green to white. Moreover, the strips of bamboo, with their vital flexibility, were pressed, bent, and woven together so that they immobilize each other with their competing power to spring back into their original shapes. This space, the container we know as a basket, was created through that combination of heat and pressure.
Indifferent in the presence of these objects? Not now—wow, they are dramatic! Heat and pressure are our starting points for an intense but very cool look at crafts.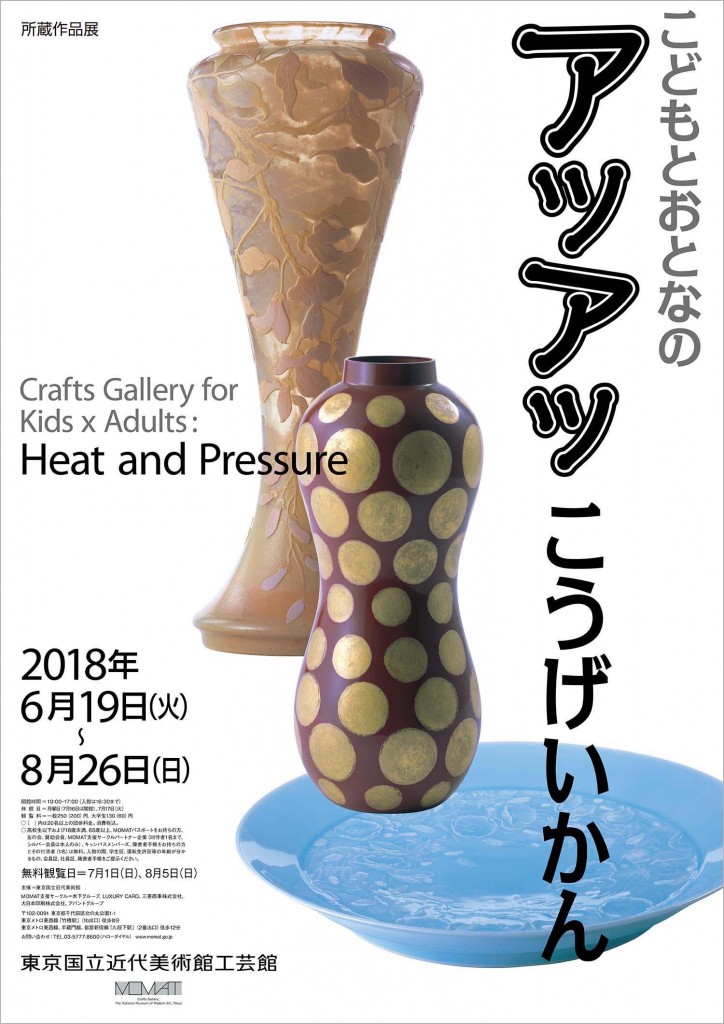 Events
Touch & Talk: Guided by Volunteer Staff Members
Looking at craft pieces, you may wonder what they are made of, or how they are made. You may also want to touch them. To meet such requests, Touch & Talk programs are given at the Crafts Gallery by volunteer docent. Since pieces and topics in focus vary each time offered, you can enjoy participation any number of times. We look forward to your joining us.
Date

Wednesdays and Saturdays during exhibition periods.
Free Program ( But Museum admission required. ) *Offered in Japanese only
●English guide is available upon request.
If you have a group of more than 5 people, an English-speaking volunteer staff will explain the exhibits to you and we will be able to provide a session in which the participants can actually touch the artworks. For further details, please refer to the "Touch & Talk" content.
Hours & Admissions
Date

June 19, 2018 – August 26, 2018

Time

10:00 – 17:00
※Last admission is 30 minutes before closing.

Closed

Mondays (except July 16, 2018); July 17, 2018

Admission

Day ticket (Group of 20 persons or more)
Adults ¥250(200)
Students (college/university) ¥130(60)

*All prices include tax.
*Free for high school students, under 18, seniors(65 and over), Campus Members, MOMAT passport holders.
*Show your Membership Card of the MOMAT Supporters or the MOMAT Members to get free admission ( a MOMAT Members Card admits two persons free ).
*Persons with disability and one person accompanying them are admitted free of charge.
*Members of the MOMAT Corporate Partners are admitted free with their staff ID.

Free Admission Days

July 1, August 5, 2018

Organizer

The National Museum of Modern Art, Tokyo