Past Exhibition
Special Exhibition
Marcel Breuer's Furniture: Improvement for good
Location
東京国立近代美術館 国立工芸館 ギャラリー4
About
Outline
Without ample cushions and pompous upholstering, Club Chair B3 or Wassily chair renovated the traditional ponderous image of chairs. It was first shown in 1925 by Marcel Breuer (1902–1981) at the tender age of twenty-three. The designer was after the war to be known also as the architect of the UNESCO headquarters in Paris and the former Whitney Museum of American Art (now the Met Breuer, an annex to the Metropolitan Museum of Art).
Prior to showing the chair, Breuer had clearly identified a new direction of his design work: to focus on function rather than the formal and ornamental elements that dominated traditional styles. The idea was considered to be the most important design principle in the efforts to integrate industry and arts that was advocated by the Bauhaus, a German design school where Breuer learned at that time. The designer put the principle into practice, and promoted it. It was human beings that was always at the center of function on which Breuer focused.For him, the only purpose of modern design was to create design rooted in human "instinct": it was his design philosophy deeply rooted in his own thought and work. Here we can find the key to the reason why his furniture design never ceased evolving while continuously making minor improvements.
Focusing on differences between various versions of Breuer's furniture design, this exhibition presents forty pieces from collections in Japan and abroad. Although he extended his creative sphere beyond furniture to architecture after the war, the essence of his design is condensed into his furniture. We hope that this show offers an opportunity to again appreciate Breuer's design that points to the possibility for diverse interpretations of the phrase "modern design," and to receive his message to us living in the twenty-first century.
Marcel Breuer
Marcel Breuer was born in Hungary in 1902. In 1920, he entered the Bauhaus, an art school in Germany and learnt design under the progressive and experimental tutelage of the first director of the school, Walter Gropius. From 1925 to 1928, he worked and taught at the furniture workshop at the Bauhaus as a master. After leaving the Bauhaus, he took part in furniture and architecture projects in Switzerland and England. In 1937, Breuer immigrated to America and started teaching at Harvard University. Along with his teaching job, Breuer found a joint architectural practice with Gropius and developed various residential buildings. After establishing an architecture office in New York in 1946, Breuer got more involved in public architecture projects such as museum and university campus besides residential buildings. The UNESCO headquarters in Paris and the former Whitney Museum of American Art (now the Met Breuer, an annex to the Metropolitan Museum of Art) are well-known. Breuer died in 1981.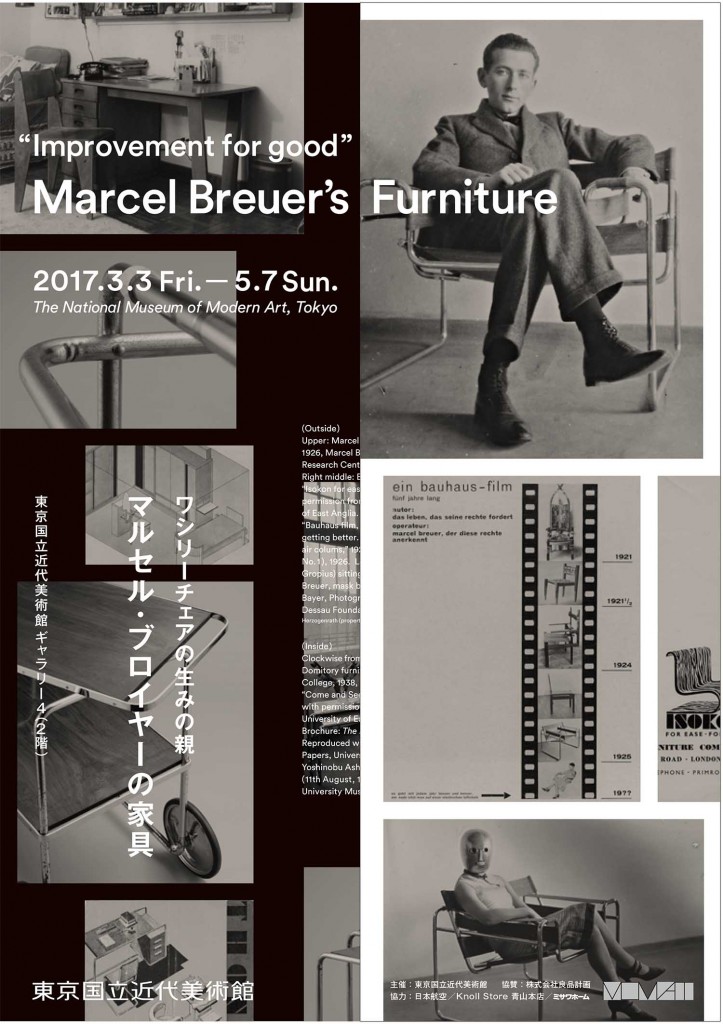 Hours & Admissions
Location

ART MUSEUM Gallery 4

Date

March 3– May 7, 2017

Time

10:00 – 17:00
( 10:00 – 20:00 on Fridays and Saturdays )
MOMAT Collection and Gallery 4 open until 9:00 PM on Fridays and Saturdays during the Spring Festival
*Last admission is 30 minutes before closing.

Closed

Mondays ( except March 20, 27, April 3 and May 1),
and March 21

Admission

Adults ¥430 (¥220 )
College and university students ¥130 (¥70 )

*Including the admission fee for MOMAT Collection.
*The price in brackets is for the group of 20 persons or more.
*All prices include tax.
*Free for high school students, under 18, seniors( 65 and over ), Campus Members, MOMAT passport holder.
*Show your Membership Card of the MOMAT Supporters or the MOMAT Members to get free admission ( a MOMAT Members Card admits two persons free ).
*Persons with disability and one person accompanying them are admitted free of charge.
*Members of the MOMAT Corporate Partners are admitted free with their staff ID.

Free Admission Days

March 5, April 2, May 7

Organizer

The National Museum of Modern Art, Tokyo