Past Exhibition
Special Exhibition
Valerio Olgiati
Location
Art Museum Gallery 4
About the Exhibition
Elegantly combining daring forms and simple plans, Valerio Olgiati (b. 1958) is now attracting attention not only in Switzerland, his homeland, but also of architects around the world.
In this exhibition, we present models and plates. This might make it sound like a regular architecture exhibition, but this is a special event designed by Valerio Olgiati for an art museum, so of course, it will be very different. Whether a small house or a large museum, all of the models are rendered in the same scale of 1:33. The details have also been omitted, giving the models the appearance of sculptures. When faced with the beautiful, white models, you are sure to start considering what gives architecture its power.
Then there are the plates. These are made up of images of buildings, gardens, spaces, and paintings that Olgiati has collected because of the influence they have had on him (he calls this his "iconographic autobiography"). In the middle of this horizontally expanding collection of images from all ages and cultures, the models, or the architecture, springs up vertically. This contrast is what defines the exhibition.
The exhibition was planned by the Institute for the History and Theory of Architecture (gta) at the Swiss Federal Institute of Technology (ETH Zurich) in close consolation with the architect. After starting at the Swiss Federal Institute of Technology, the exhibition traveled to the Royal Institute of British Architects (RIBA) in London. It will be concluding here in Tokyo. In addition, Olgiati will be adding to two models to this event.
Biography
Born in the ancient Swiss city of Chur in 1958, Olgiati studied architecture at the Swiss Federal Institute of Technology (ETH Zurich). After working in Zurich and Los Angeles, he established his own firm in Zurich in 1996. In 2008, he relocated to the ancient city of Flims (located about two hours by train and bus from Zurich). Among his most important works are School (Paspels), Yellow House (Flims), Atelier Bardill (Scharans), National Park Center (Zernez), and Plantahof Auditorium (Landquart). In 2002, Olgiati began teaching at the Swiss-Italian Mendrisio Academy of Architecture, and in 2009, he served as a visiting professor at Harvard University.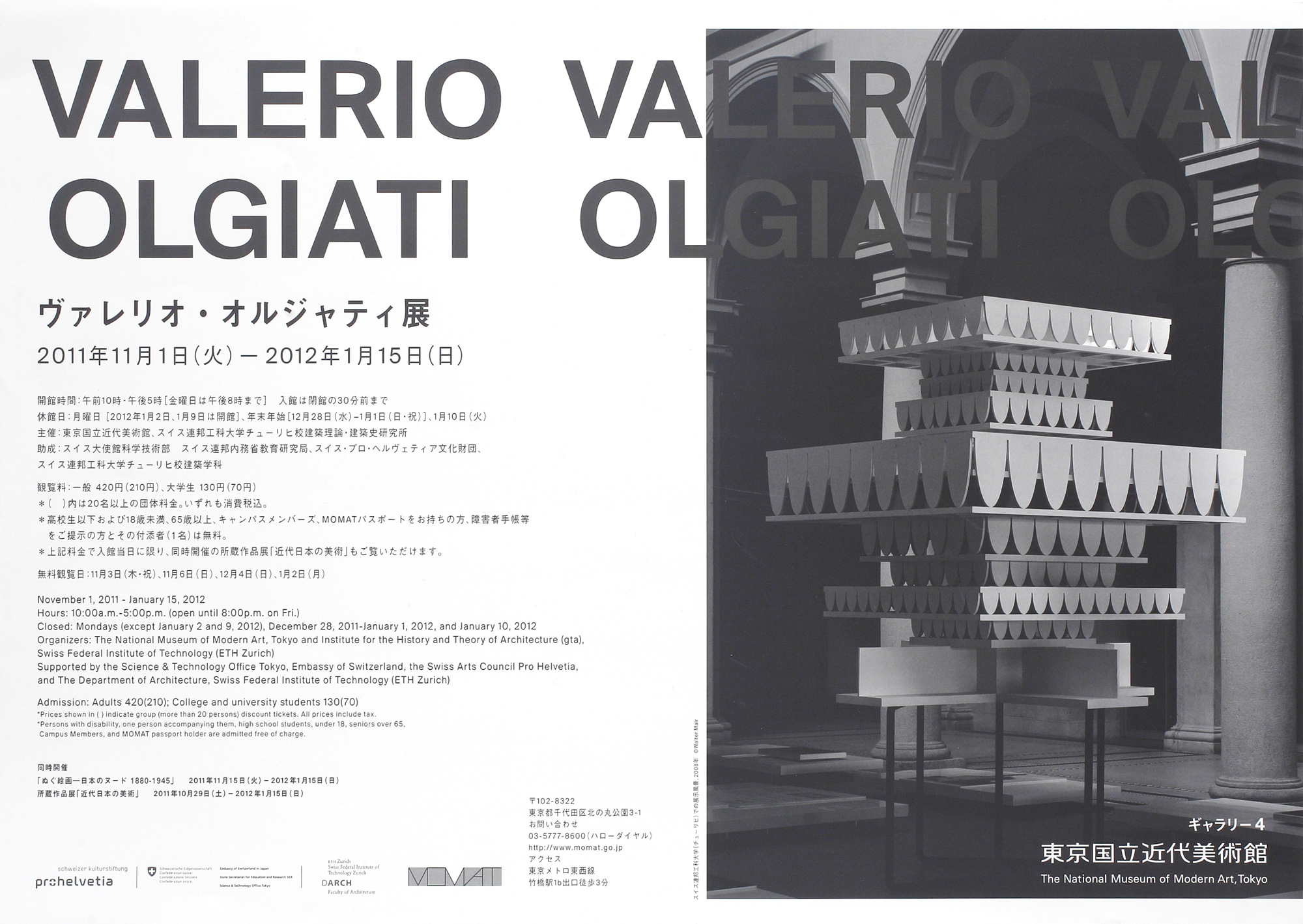 Highlights
*Olgiati: The Next Generation of Swiss Architecture after Herzog & de Meuron and Peter Zumthor
*El Croquis, one of the world's most famous architecture magazines, includes a feature on Olgiati in its recent issue.
*Valerio Olgiati is an architect who loves Japan. He has a special reverence for Izumo Shrine, Shinohara Kazuo, Ando Tadao, and koshikake aritsugi (dovetail joints).This will be the architect's first visit to Japan.
*Tokyo will be the final stop on the exhibition's international tour and the only place where it will be held in Japan.
Installation Views
Please visit our special website!
A special website provides much information about Valerio Olgiati with many photos. For example, an article of Valerio visiting a house designed by Shinohara Kazuo. (*Offered in Japanese only)
Catalogue
Sold at our museum shop
¥700
An exclusive interview with Olgiati is included the exhibition catalogue.
Hours & Admissions
Location

Art Museum Gallery 4

Date

2011.11.1(Tue)-2012.1.15(Sun)

Time

10:00-17:00 (Friday is 10:00-20:00)
*Last admission is 30 minutes before closing.

Closed

Mondays [except January 2 and 9, 2012]
December 28, 2011-January 1, 2012
January 10, 2012

Admission

Adults ¥420(210); College and university students ¥130(70)

*Including the admission fee for Modern Japanese Art from the Museum Collection.
*Prices shown in ( ) indicate group (more than 20 persons) discount tickets.
*All prices include tax.
*Persons with disability, one person accompanying them, high school students, under 18, seniors over 65, Campus Members, and MOMAT passport holders are admitted free of charge.

Free Admission Days

November 3, 6, December 4, 2011 and January 2, 2012

Organizer

The National Museum of Modern Art, Tokyo
Institute for the History and Theory of Architecture (gta), Swiss Federal Institute of Technology (ETH Zurich)

Supported by

The Science & Technology Office Tokyo, Embassy of Switzerland
The Swiss Arts Council Pro Helvetia
The Department of Architecture, Swiss Federal Institute of Technology (ETH Zurich)