Past Exhibition
Special Exhibition
100 Years of Mingei: The Folk Crafts Movement
Location
Special Exhibition Gallery (1st floor) , Gallery 4 (2nd floor)
About the Exhibition
Local and Modern
Why is Mingei, the Folk Crafts Movement that originated in the early 20th century, the focus of so much attention nowadays? Is it because people are concerned with design for more fulfilling lifestyles? Or because of interest in the local color and handcrafting traditions that endure in various regions of Japan? Whatever the reason, the new aesthetic vision conceived by Yanagi Muneyoshi (Soetsu), Hamada Shoji and Kawai Kanjiro nearly a hundred years ago remarkably continues to inspire people today.
The term "Mingei" was coined in late December 1925, and almost a century (96 years, to be exact) has passed since the conceptual seeds of Mingei were sown. This exhibition, 60 years after the death of founder Yanagi Muneyoshi, will show Mingei's endeavors, which evolved over the years, in a new light while offering a comprehensive picture of the movement.
This exhibition showcases an array of functional utensils, including ceramics, textiles, woodwork, straw garments, baskets, and colanders, and folk paintings such as Otsu-e, collected by Yanagi and others, as well as publications, photographs, and films from the time, illuminating Mingei and its internal and external social, historical, and economic context through more than 450 works and materials.
Of particular note are Mingei's modern approach to the processes of "editing," primarily in the three fields of museum administration, publishing, and distribution, and the movement's local networks that linked people, goods, and information in various regions and promoted collaboration. The Mingei project expanded beyond the collection of aesthetically pleasing objects to the creation of systems including the production and distribution of newly made folk crafts, addressing social issues such as improvement of standards of living in rural areas, new ideas for food, clothing, and shelter, and preservation of scenery. Today, when the end of the "modern" era has already become old news, what does a sustainable society and lifestyle look like? With this exhibition we re-examine the potential of the Folk Crafts Movement, which identified already existing local resources and reorganized relationships among people, goods, and information, from the perspective of a museum of modern art.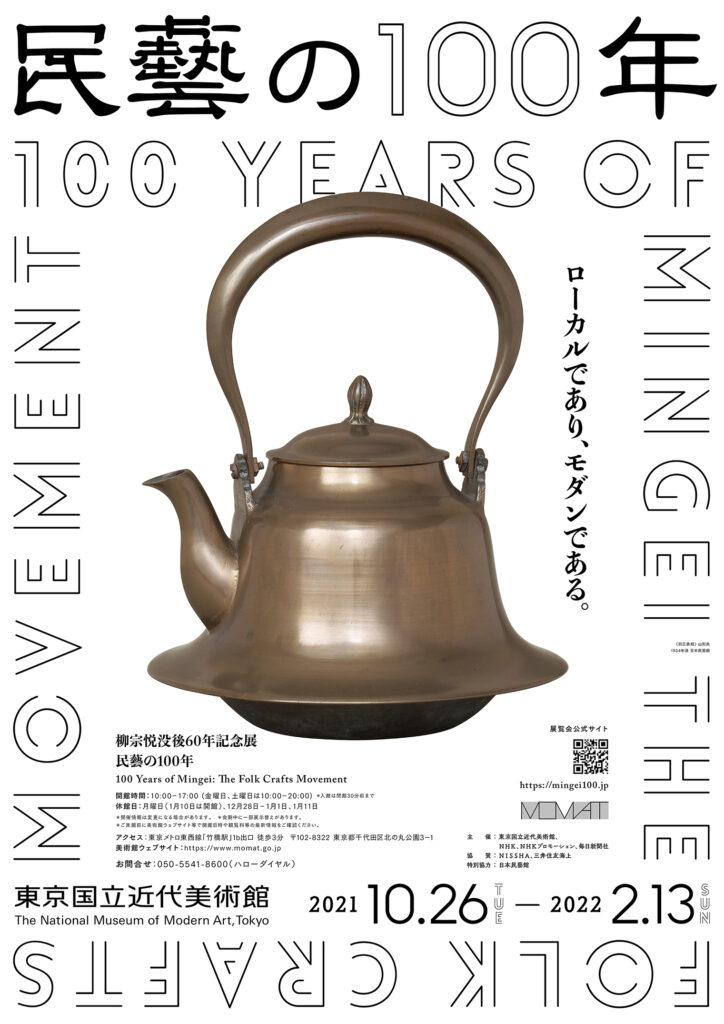 Highlights
1. Traces relationships between Mingei's changes over time and Japanese society
What was the historical context of Mingei's emergence and evolution? From the Great Kanto Earthquake of 1923, growth of the railway network, the rise of tourism to war and the Japanese nation-state, and rapid postwar economic growth, the Folk Crafts Movement is inextricably linked to modernization and its development has paralleled major milestones in society. This exhibition reveals various reasons Mingei is drawing renewed attention today.
2. Portrait of Yanagi Soetsu at work: analysis of his design and editing methods
Yanagi was a philosopher of religion who focused on writing as he spearheaded the Folk Crafts Movement, but in fact he was a highly talented artist as well. He showed his gift for design and editing in various fields, sketching the objects he collected, designing fonts, cropping and arranging photographs, making drawings for buildings and products, and creating mountings for Otsu-e and other paintings. The exhibition explores Yanagi's "handiwork" and how it revealed and conveyed his aesthetic sense through various media.
3. From food, clothing and shelter to scenic preservation
Three-piece tweed suits, bow ties, round glasses, samue (Buddhist monks' workwear) worn in the studio: those associated with Mingei were a stylish group. Mingei was also involved with cuisine including shabu-shabu hot pot, Japanese-style curry, and local specialty sweets. The movement is well known for architecture involving aspects of traditional Japanese houses and incorporation of Windsor chairs and Japanese-Korean-Western fusion into interior design, but did you know that Mingei was also committed to preserving the scenery of the Tottori Sand Dunes?
Exhibition Catalogue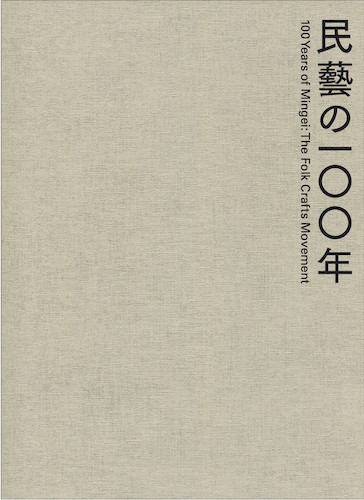 Hours & Admissions
Location

Special Exhibition Gallery (1st floor) , Gallery 4 (2nd floor)

Date

October 26, 2021–February 13, 2022

Time

10:00-17:00 ( Fridays and Saturdays open until 20:00 )
*Last admission : 30 minutes before closing.

Closed


Mondays (except January 10, 2022), from December 28 to January 1, 2022,
and January 11, 2022

Ticket

Tickets can be purchased on site at the ticket counters, subject to their availability.
For further details and online purchase, please visit the Special Website (English Page), Special Website (Japanese version only).

Admission


Adults ¥1,800 (¥1,600)
College/University students ¥1,200 (¥1,000)
High School students ¥700 (¥500)

Admission in the parentheses is for groups of 20 persons or more.
All prices include tax.
Admission is free for Junior High School students, under 15, and those with Disability Certificates and one caregiver accompanying each of them. Please present ID at the entrance.
Including the admission fee for MOMAT Collection.

Organizers

The National Museum of Modern Art, Tokyo
NHK, NHK Promotions Inc.
The Mainichi Newspapers

Sponsors

Nissha Co., Ltd.
Mitsui Sumitomo Insurance Company, Limited

Special Cooperation


The Japan Folk Crafts Museum