Past Exhibition
Collection Exhibition
2020-3 MOMAT Collection
Location
Collection Gallery, from the fourth to second floors
The collection exhibition from March 23 to May 16, 2021
Welcome to the MOMAT Collection! Once again, the time of year approaches when the cherry blossoms of Chidorigafuchi burst beautifully into bloom. To mark this season we are pleased to present masterworks depicting cherry blossoms, including Kawai Gyokudo's Parting Spring, an Important Cultural Property, in Room 10 on the third floor.
This spring, we mark 10 years since the Great East Japan Earthquake struck the Tohoku region in northeastern Honshu. In May 2011, shortly after the earthquake and tsunami, the museum presented a special feature entitled Thinking about Tohoku as part of the MOMAT Collection exhibition, and it has been revived several times since then in various forms. This time, we look back on past editions of Thinking about Tohoku (light blue captions accompanying works are commentary originally posted in 2011), and also present newly acquired works relating to the disaster.
Also, in connection with the exhibition Ayashii: Decadent and Grotesque Images of Beauty in Modern Japanese Art on view on the first floor, we have organized a number of special exhibits: on the fourth floor, Every Picture Tells a Story in Room 2, Art and Life in Room 3, Age of the Grotesque and Avant-Garde in Room 5, and in Gallery 4 on the second floor, Hallucinating Lenses: Primarily from the Museum Collection, a group of works embodying the fantastic in photography.
Once again this year, we are pleased to offer an extensive selection of works from the MOMAT Collection for you to enjoy at your leisure.
translated by Christopher Stephens
Important Cultural Properties on display
The National Museum of Modern Art, Tokyo Collection (main building) contains 15 items that have been designated by the Japanese government as Important Cultural Properties. These include nine Nihon-ga (Japanese-style) paintings, five oil paintings, and one sculpture. (One of the Nihon-ga paintings and one of the oil paintings are on long-term loan to the museum.)
The following Important Cultural Properties are shown in this period:
Harada Naojiro, Kannon Bodhisattva Riding the Dragon, 1890, Long term loan (Gokokuji Temple Collection)
Yorozu Tetsugoro, Nude Beauty, 1912
Kishida Ryusei, Road Cut through a Hill, 1915
Nakamura Tsune, Portrait of Vasilii Yaroshenko, 1920
Wada Sanzo, South Wind, 1907
Kawai Gyokudo, Parting Spring, 1916
Please visit the Important Cultural Property section Masterpieces for more information about the pieces.
About the Sections
4F (Fourth floor)
Room 1 Highlights * This section presents a consolidation of splendid works from the collection, with a focus on Master Pieces.
Room 2– 5 1900s-1940s
 From the End of the Meiji Period to the Beginning of the Showa Period
A Room With A View
Reference Corner is currently out of service.
Room 1
Highlights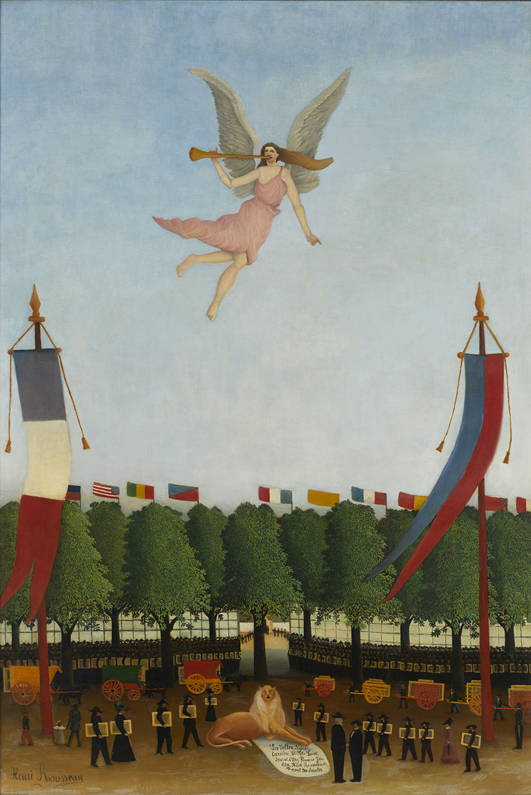 The MOMAT Collection exhibition, drawn from the museum's holdings, consists of over 200 works displayed over a 3,000-square meter area. The exhibition starts with the "Highlights" section, consisting of some of the collection's most essential works.
In celebration of the season when cherry blossoms bloom, the first work you will encounter is Kikuchi Hobun's Fine Rain on Mt. Yoshino, which we invite you to enjoy along with other works depicting flowers in Room 10 on the third floor.
This year is the 10th anniversary of the massive earthquake and tsunami that ravaged the Tohoku region, and we look back at the recurring special feature Thinking About Tohoku, first organized in the wake of the earthquake 10 years ago, presenting works by artists with ties to the region: Yokoyama Taikan, Hishida Shunso, Takamura Kotaro, Sato Gengen (Chozan), and Yorozu Tetsugoro.
In addition, some of the most important works in the MOMAT collection will be exhibited, including Harada Naojiro's Kannon Bodhisattva Riding the Dragon and Wada Sanzo's South Wind (both Important Cultural Properties of Japan), Paul Cézanne's Grand Bouquet of Flowers, and Henri Rousseau's Liberty Inviting Artists to Take Part in the 22nd Exhibition of the Société des Artistes.
Room 2
Every Picture Tells a Story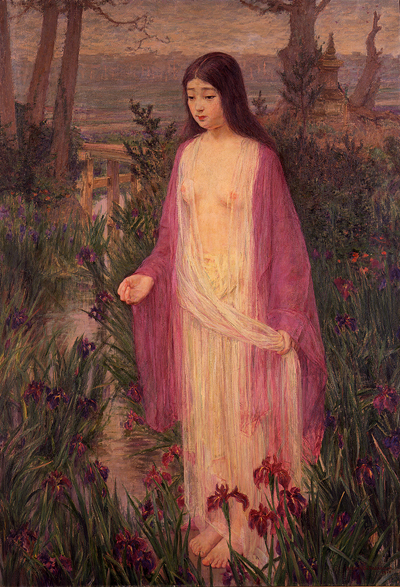 Many of the works on view in the exhibition Ayashii: Decadent and Grotesque Images of Beauty in Modern Japanese Art on the first floor have profound connections to literature. In this room, too, we present works of art that are inspired by literature or depict scenes from narratives. The most prominent artists featured here are Nakazawa Hiromitsu and Nakamura Fusetsu. Nakazawa was especially adept at gentle rendering of natural light, influenced by the pioneering Western-style painter Kuroda Seiki, and incorporated light effects into representations of scenes from stories. Meanwhile, Nakamura received a rigorous academic education under Jean-Paul Laurens in France and emphasized accurate rendering of the human figure, including in his story-inspired works, but he also had literary inclinations. In Prince Meets Princess at the Ryugu Palace, he deliberately portrayed people in a simple, rustic style so as to evoke the world of ancient mythology. The same story contains the characters Umisachi and Yamasachi (lit. "sea treasure" and "mountain treasure," a fisherman deity and a hunter deity), which Maeda Seison depicted in the form of an emaki picture scroll, and the two works make for an interesting comparison. The scroll is structured so as to illustrate the passage of time, but the viewer's gaze is also propelled by a visual rhythm created by waves, schools of fish, and a procession of female figures in the Ryugu Palace.
Room 3
Art and Life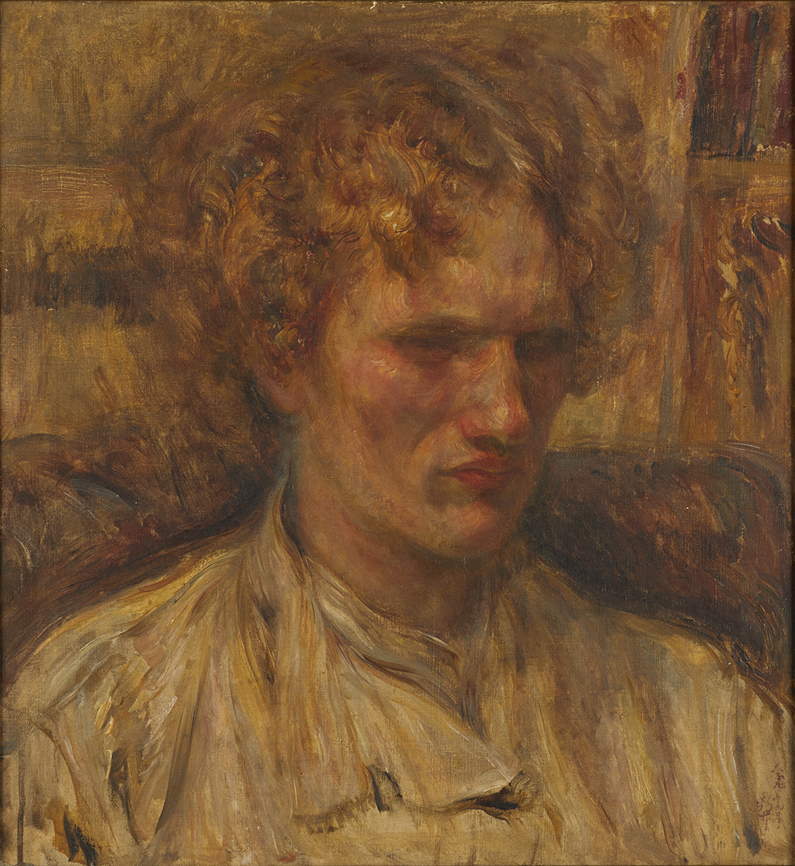 The sculptor and poet Takamura Kotaro wrote in a review of the 1913 Bunten (official exhibition sponsored by the Ministry of Education): "I can look at a work, see whether it has 'life,' and by extension know directly whether the artist has la vie [French for 'life']. At the same time, when I see an artist and whether or not he has la vie, I can immediately imagine whether or not his work has value." When Takamura speaks of a work having "life," he does not mean that the rendered or sculpted object looks alive, but rather that some invisible aspect of the artist's inner life is expressed.
Art movements in the Taisho Era (1912-1926) revolved around the expression of "life." Examples include the work of Yorozu Tetsugoro, which seemingly states that the artist's touch connects directly to life's essence, and that of Sekine Shoji, which expresses powerful emotion even at the cost of leaving the work looking unfinished. Meanwhile, Kishida Ryusei said that when precise, detailed rendering produced realistic beauty, it was because the painter's "inner beauty" was aligned with the tangible phenomena of nature.
During these years when "life" was central to art, in real life artists were afflicted with all manner of illnesses. All of the works presented in this room are by artists who died younger than we might imagine.
Room 4
After the Quake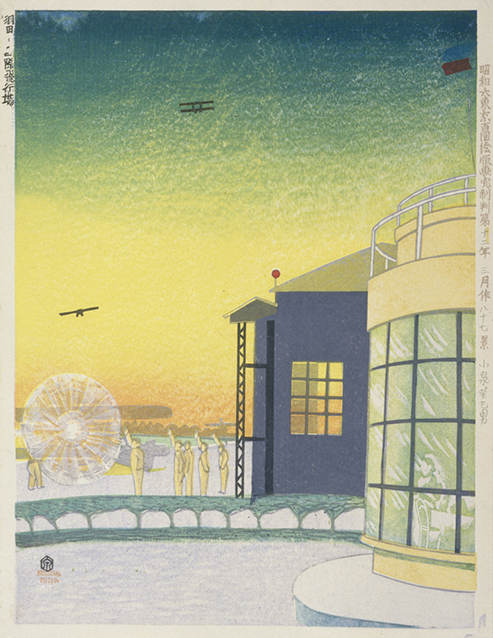 The Great Kanto Earthquake, which occurred on September 1, 1923, inflicted catastrophic damage on Tokyo. How did artists react when faced with such an unprecedented disaster? While visiting every part of the city, Sogame Hirotaro diligently depicted scenes such as trees that had been burned in the fires, houses that had collapsed, and quake victims' way of living. Though photographic records of the events appeared in a variety of magazine features in conjunction with reports on the earthquake, artists attempted to express a different sense of realism through the medium of fiction. In the revitalization process that followed the earthquake, various works and series appeared under the title New Tokyo, in order to exert a positive influence on the city's "rebirth" which had quickly been transformed into a modern metropolis. In this New Tokyo series, there is a significant focus on things that functioned as urban media, such as department stores, theaters, railways, and radio stations, facilitating a stream of people, objects, and information. With this in mind, the pictorial space in Koga Harue's Sea (on view in Room 5), a montage of different images collected from magazines and picture postcards, can also be seen as a reflection of the energy exuded by the newly reborn city.
Room 5
Age of the Grotesque and Avant-Garde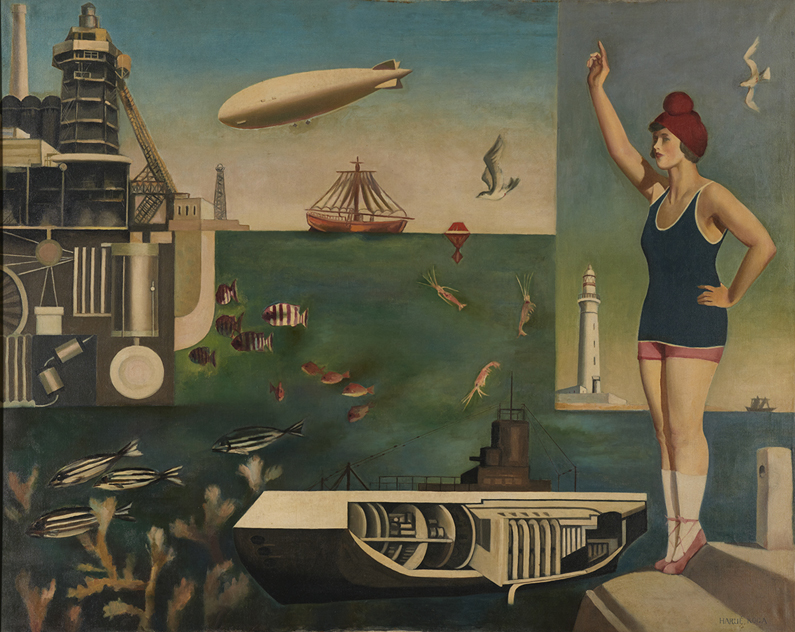 The exhibition Ayashii: Decadent and Grotesque Images of Beauty in Modern Japanese Art, on the first floor, focuses on the trend toward decadence during the Taisho Era (1912-1926). In the ensuing early years of the Showa Era (1926- 1989) as well, the unique urban subculture of ero guro nansensu ("erotic, grotesque, nonsensical") flourished primarily in Tokyo, which was being reconstructed and modernized following the Great Kanto Earthquake of 1923. It was associated with the café scene, fashionable youth known as moga and mobo (short for "modern girls" and "modern boys"), and the adoption of various unfamiliar customs from overseas. These trends were broadly introduced in the book Gendai ryoki sentan zukan (lit. "Pictorial Guide to the Grotesque and Avant-Garde of Today") (Shinchosha), published in 1931. In this book the technique of montage, in which parts of photographs are cut out and boldly combined to create outlandish images, is showcased as an example of the avant-garde in art.
The artist Koga Harue applied this montage technique to oil painting. Investigation of Koga's working process reveals that his images were composed using various printed-matter sources of the time. In this room we present materials relating to Koga's Sea (1929), as well as works depicting the contemporary urban lifestyle of the time and works with fantastical tendencies.
3F (Third floor)
Room 6-8 1940s-1960s
 From the Beginning to the Middle of the Showa Period
Room 9 Photography and Video
Room 10 Nihon-ga (Japanese-style Painting)
Room to Consider the Building (Sol LeWitt, Wall Drawing#769)
Room 6
Japan Is No Longer in The Postwar Period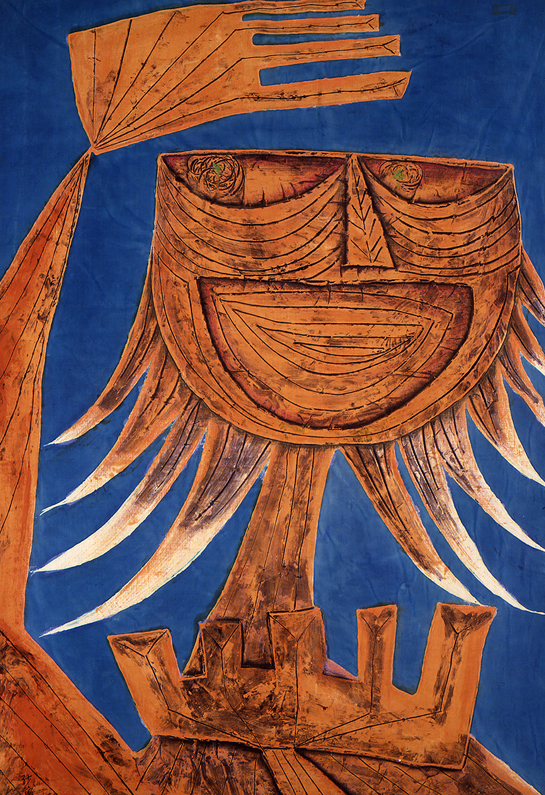 After appearing in an economic white paper in 1956, the phrase "Japan is no longer in the postwar period" became one of the year's vogue terms. This indicated that 11 years after the end of the war, the Japanese economy had finally returned to where it had been in the mid-1930s. The popularity of such phrases that looked to the future rather than the past, approximately a decade after the end of World War II, had a similar precedent in the Great Kanto Earthquake (1923) and the reconstruction in its aftermath, presented in After the Quake in Room 4. Around 1930, seven years after the earthquake struck the Tokyo region, there were many events with names such as Tokyo Reconstruction Exhibition and Tokyo Reconstruction Festival, which emphasized that "reconstruction had been achieved" (i.e. we were "no longer in the post-quake period"). Approximately a decade after a catastrophic event (whether natural or human-made) is often a time when people look back on that event and recollect it in various ways, while at the same time it can be a turning point when the process of people forgetting and memories fading accelerates.
In this room are exhibited War Record Paintings, created during World War II, along with works dating from around 1955, a decade after the war's end. We invite viewers to look at these works together and consider what 10 years can mean.
Room 7
The 1950s and 1960s: Explorations and Challenges in Printmaking
In this room, during the previous term we presented images of people that conveyed prevailing feelings of unease and anxiety when memories of World War II were still fresh, under the title "Restless Bodies." By contrast, the current exhibit focuses on works that communicate a sense of hope, the will to move forward even while faced with adversity due to the war and societal changes.
From 1945 to 1952, Japan was occupied by the Allied Powers, and among the restrictions imposed were those applying to creative activities. Half of the works on display in this room were produced during this period. Nothing here directly conveys a critical message, but the works are imbued with a sense of artists' drive to move forward, expressed in various ways.
In terms of art from after the Occupation, we present works by artists such as Nambata Tatsuoki and Ei-Kyu that evoke anticipation of new beginnings. Another highlight is Yanagihara Yoshitatsu's statue of a woman standing determinedly with her fist firmly clenched.
Room 8
Prints in the 1970s and 1980s: Expansion of the Concept of Printmaking
Starting in the late 1960s lithography and silkscreen grew more prevalent, in tandem with innovations in printing technology and trends in contemporary art, and photomechanical processes also came to be adopted. In an era when the concept of printmaking became more diffuse and confused, the question was raised: "What is a print, exactly?" Meanwhile, with a growing number of universities establishing specialized printmaking courses and the number of print studios increasing, it became possible to learn techniques and produce work in an environment fully equipped with art supplies, utensils, and presses. Individual printmakers, building on their technical expertise, examined the characteristics and processes of specific printmaking techniques and pursued fresh and innovative expression.
While highlighting distinctive characteristics of prints, this room focuses on works by Enokura Koji and Takamatsu Jiro, who applied novel perspectives to their working methods, and on prints utilizing photographic images, which were flourishing at the time. We hope you will enjoy this selection of 1970s and 1980s prints, which developed in conjunction with the art and society of its time.
Room 9
To the North: Kitai Kazuo, Moriyama Daido, Suda Issei
In the 1970s many unforgettable works appeared on the Japanese photography scene, all with the subject of travels to rural areas. In particular, a number of outstanding photographs were taken in the Tohoku region. Here we present works from classic series exemplifying this artistic trend: Kitai Kazuo's Villages, Moriyama Daido's Tono Monogatari (Tono Tales), and Suda Issei's Fushi Kaden.
In the 1970s the interests of photographers who had thus far been engaging with the tumultuous events of the times, against the backdrop of major urban centers, began turning toward the unceasing flow of daily life and memories that accumulate in the course of living. Photographers turned their gaze toward what was changing, and toward what remained unchanged. In their images we see not only things that have now vanished with the changing times, but also those that endure and are still with us to this day.
This special feature is a partially updated and re-edited version of an exhibit that was on view from July to September 2011 as part of the project series Thinking About Tohoku, which we have held several times during the MOMAT Collection exhibition since the Great East Japan Earthquake of March 2011. Now that 10 years have passed since the earthquake and we are in the midst of the coronavirus pandemic, let us turn our attention once more to these photographers and their visions of "the everyday."
Room 10
Spring Festival in MOMAT
For our annual Spring Festival, we have increased the number of works, and here in Room 10 we have brought together a number of works featuring flowers. We hope you relax and enjoy spring while seated on Kenmochi Isamu's rattan stools and Seike Kiyoshi's mobile tatami mats.
Kawai Gyokudo's Parting Spring (Important Cultural Property), a frequent staple of the Spring Festival, is exhibited in this room. It depicts Nagatoro, Saitama in spring, with the cherry blossoms along the waterside swiftly scattering in a scene that recalls Chidorigafuchi (another famous cherry blossom site, walking distance from here). A marvelous variety of cherry blossoms is also on view in Atomi Gyokushi's Scroll of Cherry Blossoms. Over 40 rare types of cherry trees appear in its 25 panels, including weeping, yellow-hued, and Izu Oshima cherry trees like those that burst into bloom one after another along the Kinokunizaka Slope between the MOMAT main building and the Crafts Gallery. On a spring day, enjoy a harmony of the cherry blossoms in these paintings and the ones outside the museum.
2F (Second floor)
Room 11-12 1970s-2010s
 From the End of the Showa Period to the Present
Gallery 4
* A space of about 250 square meters. This gallery offers cutting-edge thematic exhibitions from the Museum Collection, and special exhibitions featuring photographs or design.
Hallucinating Lenses: Primarily from the Museum Collection (March 23-May 16, 2021)
Room 11
Thinking about Tohoku II: Memory, Rebirth, Art
"Since the Tohoku earthquake of March 2011, over the past year the museum has presented the Thinking about Tohoku series on an ongoing basis as part of the exhibition of our permanent collection. During the current term, January–May 2012, we will be marking the
passage of one year with a special feature entitled Thinking about Tohoku II: Memory, Rebirth, Art on the second floor." This quote is from a text displayed at the venue during a small exhibit that was part of the MOMAT Collection exhibition in 2012, the second in the
series of special features launched immediately after the Great East Japan Earthquake.
In this room, we present a partial replication of Thinking about Tohoku II: Memory, Rebirth, Art, with the commentary from the time displayed as is. The first Thinking about Tohoku, which continued throughout 2011, was characterized by urgency, having been propelled by recognition that something had to be done right away. By contrast, both the theme and the works selected for Thinking about Tohoku II: Memory, Rebirth, Art conveyed the reality that a
year had passed. While viewing the exhibit, we invite you to reflect on the passage of time –one year after, ten years after, and so on – and its effects.
Room 12
After the Quake: Thinking about Tohoku III
"Three years have passed since March 11, 2011. In the past, we have presented exhibits titled Special Feature: Thinking about Tohoku (in May 2011), and Special Feature: Thinking about Tohoku II: Memory, Rebirth, Art (in January 2012). In this third edition, we consider how artists reacted and how they made contact with the stricken area following the earthquake, tsunami, and Fukushima Daiichi Nuclear Power Plant Accident. Moreover, we consider how they dealt with the various problems that arose as a result of these events."
The quote above is from a text displayed at the venue during a small exhibit that was part of the MOMAT Collection exhibition in 2014. It differed from the previous two editions of Thinking about Tohoku in that it presented, for the first time, works dealing directly with the
Great East Japan Earthquake.
This time, we are dedicating approximately half of this room to a partial reconstruction of that edition, After the Quake: Thinking about Tohoku III. The other half features works produced since 2014 that the museum has acquired in recent years, which may or may not be directly related to the earthquake.
About the Exhibition
Location

Collection Gallery, from the fourth to second floors

Date

March 23–May 16, 2021

Time

10:00–17:00 (Fridays and Saturdays open until 20:00)
*From May 12 to 16 open until 20:00 *Last admission is 30 minutes before closing.

Closed

Closed on Mondays (except March 29 and May 3, 2021) and May 6, 2021
*Temporary closure from April 25

Ticket

Advance ticket is recommended to avoid lines forming at the entrance.
Online purchase: 【e-tix】
Tickets can be purchased on site at the ticket counters, subject to their availability.

Admission

Adults ¥500 (400)
College and university students ¥250 (200)
*The price in brackets is for the group of 20 persons or more. All prices include tax.
Free for high school students, under 18, seniors (65 and over), Campus Members, MOMAT passport holder.
*Show your Membership Card of the MOMAT Supporters or the MOMAT Members to get free admission (a MOMAT Members Card admits two persons free).
*Persons with disability and one person accompanying them are admitted free of charge.
*Members of the MOMAT Corporate Partners are admitted free with their staff ID.

Discounts

Evening Discount (From 17:00 on Fridays and Saturdays)
Adults ¥300
College and university students ¥150

Organized by

The National Museum of Modern Art, Tokyo