Past Exhibition
Collection Exhibition
Did you see it?–challenges from the kids: from the Museum Collection
About
It's hard, many have told us, for kids to appreciate craft objects. In response, we launched the Crafts Gallery for Kids + Adults program in the summer 2002. Its goal is for kids to be able to have fun, during their long summer vacations, learning about Japan's crafts, which are both a valued part of our daily lives and the subject of great interest around the world. But what we discovered when looked at the results of the program was not that children were just soaking up information. Their reactions have been truly inspiring. As they explore the crafts, the kids' gaze–easily leaping beyond our adult expectations and concerns–is acute and penetrating. One example is the worksheets or reference cards they fill out. Our program to make them public, to turn them into our All Hands Catalogue, has been a success because the kids' views it presents can shake up adults' perceptions–which are all too often careless. The drawings and explanations that kids create to introduce works on display are fresh, lively, and fascinating! Each reference card bearing those observations quite innocently asks us, "Did you (really) see it?" Perhaps that is why we often notice adults looking oddly serious in front of a card and then hurrying back to the gallery.
For this summer's exhibition, we are reorganizing the themes we have used thus far–color, motif, texture, fittings, for example–in light of the fundamental forms of the crafts deftly exposed from the kids' perspective. Whether you've seen the works on display before or if they are new to you, please take up the challenge those young people have assigned us. The year 2020 and the Crafts Gallery's move are almost before us. Don't miss your last summer at the Crafts Gallery in Tokyo!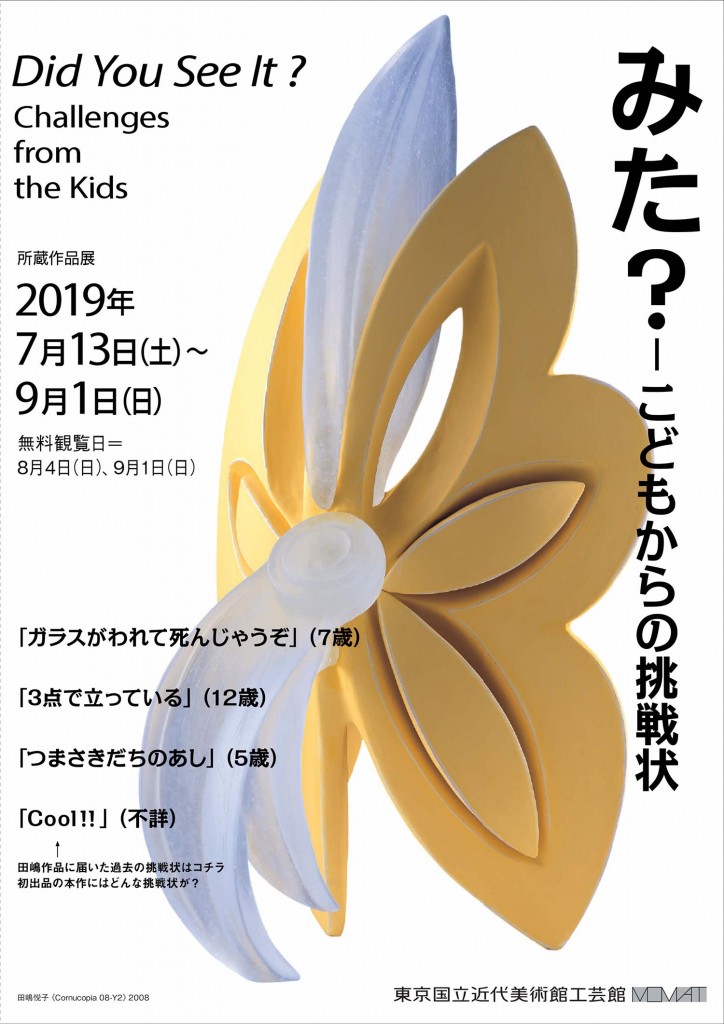 Events
Touch & Talk: Guided by Volunteer Staff Members
Looking at craft pieces, you may wonder what they are made of, or how they are made. You may also want to touch them. To meet such requests, Touch & Talk programs are given at the Crafts Gallery by volunteer docent. Since pieces and topics in focus vary each time offered, you can enjoy participation any number of times. We look forward to your joining us.
Date

Wednesdays and Saturdays during exhibition periods.
Free Program ( But Museum admission required. ) *Offered in Japanese only
●English guide is available upon request.
If you have a group of more than 5 people, an English-speaking volunteer staff will explain the exhibits to you and we will be able to provide a session in which the participants can actually touch the artworks. For further details, please refer to the "Touch & Talk" content.
Hours & Admissions
Date

July 13, 2019 – September 1, 2019

Time

10:00 – 17:00
※Last admission is 30 minutes before closing.

Closed

Mondays (except July 15, August 12, 2019); July 16, August 13, 2019

Admission

Day ticket (Group of 20 persons or more)
Adults ¥250(200)
Students (college/university) ¥130(60)

*All prices include tax.
*Free for high school students, under 18, seniors (65 and over), Campus Members, MOMAT passport holders.
*Show your Membership Card of the MOMAT Supporters or the MOMAT Members to get free admission ( a MOMAT Members Card admits two persons free ).
*Persons with disability and one person accompanying them are admitted free of charge.
*Members of the MOMAT Corporate Partners are admitted free with their staff ID.

Free Admission Days

August 4, 2019
September 1, 2019

Organizer

The National Museum of Modern Art, Tokyo