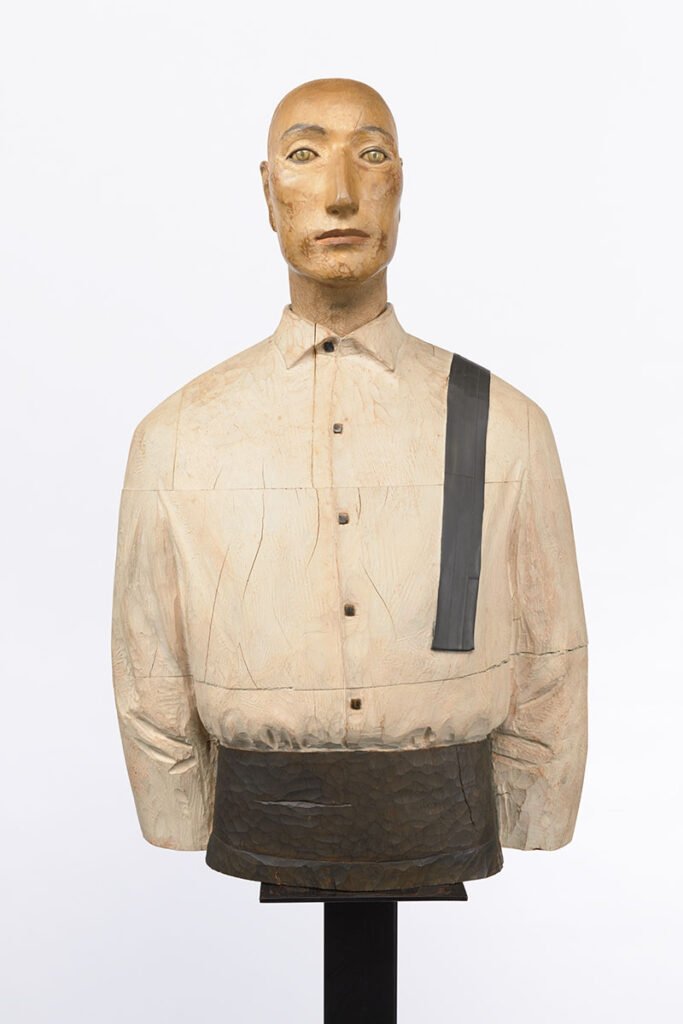 The book Art of the 80s: 100 Forms, INAX Gallery + Nakahara Yusuke (INAX, 1991) edited by Nakahara Yusuke, a record of the 1980s that introduces various artists over the course of that decade through the eyes of critics, contains not one straightforward sculptural rendering of the human figure (furthermore, both figurative paintings of people and works by female artists are few and far between.) Even going as far back as the 1950s, sculpture depicting the human form has rarely been in the limelight of contemporary art. This is noteworthy as an art-historical trend, but it also points to one reason Funakoshi Katsura's emergence in the mid-1980s had such a significant impact.
This work features carved and painted wood, chisel marks left in a rough state, clothing on a figure that is one size smaller than life size, eyes carved from marble, half-length portrayal from below the navel up, combinations of wood with other materials, a thin steel pedestal, and a literary title. With all these characteristics, typical of his work up until the mid-1990s, it is a classic Funakoshi piece that has been shown at the Venice Biennale (1988), the Against Nature exhibition (1989–91), and major solo exhibitions.
Funakoshi's work was hailed as a revival of traditional carved-wood sculpture, and it elicited many words from its appreciators. Looking back over past discourse on his sculpture, it is full of lyrical expressions so rich in metaphor they could be described as Symbolist poetry, and his works have appeared on the covers of many novels. What is it that so stirs people verbally, or poetically?
Besides the literary nature of his titles (the title of this sculpture was also the title of the first book of Funakoshi's works), in visual terms one can point to the positioning of the eyes. The two black eyes are slightly horizontally offset, looking outwards in two different directions so we cannot trace what the gaze focuses on. In addition to the impossibility of "making eye contact" even when standing in front of the work, the arms below the wrists and the body from the hips downward are cut off, giving the figure a quietly meditative, self-contained air while also seeming to hint at something else. The viewer, too, is led into a meditative state and begins to weave an internal narrative. In metaphorical terms, the work resembles a mirror.
There was no specific model for this sculpture, and according to the artist, the distinctive rubber tubing affixed from the shoulder to the chest is a physical representation of a "glossy, viscous black band" appearing on this part of the body in the original drawing.1 This stance toward the working process, prioritizing ideas in drawings over physical realism, is certainly linked to the poetic atmosphere that sparks flights of fancy in the viewer.

[Notes]
Funakoshi Katsura: The Spring in I exhibition catalogue, The Shoto Museum of Art, 2020, p. 117.
---
(Gendai no me, Newsletter of The National Museum of Modern Art, Tokyo No.636)
Release date :