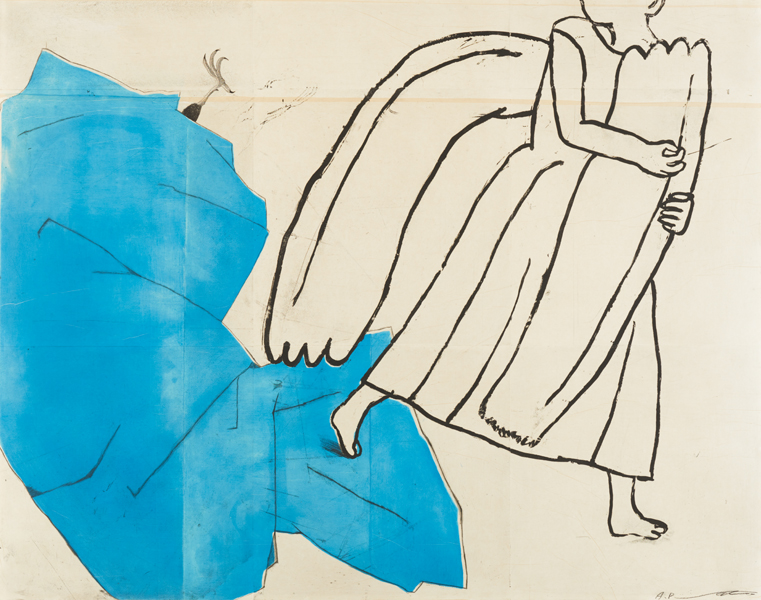 In FY2020, the museum acquired four large prints by Murakami Saki (two purchased and two donated). Two of these, Kafka (2014) and Cover (2016), were on view in the MOMAT Collection exhibition from March 18 to May 8, 2022.
While large-scale prints have become increasingly common since the 1980s, due in part to an increase in museum exhibitions, printmaking remains a genre in which many works appear introverted, delicate, and meticulous. Murakami Saki is a young printmaker, still in her twenties at the time of these acquisitions, but her large prints have sufficient power to hold their own when exhibited alongside other contemporary artworks, and have drawn attention as promising new developments in the printmaking field.
Born into a family that operated a veterinary clinic in Takasaki City, Gunma Prefecture, Murakami underwent surgery at the age of four for a congenital heart condition. The heart surgery she experienced as a child and the memories of her family's clinic, a place where life and death went hand in hand, were formative influences, and as if drawing parallels with her own emotional scars, Murakami has been exploring the possibilities of consciously engaging with the "scarring" of printing plates intrinsic to copperplate printmaking. Her work, which evokes a sense of connection to fear, anxiety, pain, and mortality, takes personal experience as a point of departure, but goes beyond individual memory to delve profoundly into primal and universal issues of the heart, mind, and life.
Cover is a work from 2016, when the artist began to expand her handling of line and plane by introducing color plates and the spit bite technique, in which a corrosive solution is applied directly with a brush on top of powdered pine-sap sprinkled on the copper plate. At first glance the image appears to be of an angel and the sky in a fresh, eye-catching shade of blue, but on closer inspection, one sees a precisely rendered bird's leg protruding from what is actually a blue sheet. The figure's head is cut off by the edge of the picture, and there are no features on the visible portion of the face.
There is a hidden object covered by the blue sheet, and the angelic figure is about to leave the scene with one of in its wings clutched in its arms. The simplified forms and thick, powerful brushstrokes of this striking picture depict a scene that seems deeply meaningful but is also unsettling and elusive.
The works of Murakami Saki, in which a disquieting sense of fear and anxiety coexists with fragile and vulnerable emotional fluctuations, evoke a sense of the fantastic, like a scene from a dream or a fable, and capture the viewer's imagination in a variety of ways.
---
(Gendai no me, Newsletter of The National Museum of Modern Art, Tokyo No.637)
Release date :