Past Exhibition
Special Exhibition
Bizen: From Earth and Fire, Exquisite Forms
About
Bizen ware has been popular for many years in Japan as primitive, simple unglazed ceramics shaped out of clay and flames. Distinctive appearances created during firing in wood-fired kilns are the feature unique to Bizen ware, such as yohen (accidental coloring), hidasuki (red sash), botamochi (rice cake dumpling covered with bean paste), goma (sesame) and sangiri (framed by crosspieces). This exhibition presents a broad range of Bizen ware from masterpieces of ko-Bizen (ancient Bizen) that were praised by masters of the tea ceremony in the Azuchi-Momoyama period (1568–1600), to works by modern ceramists enchanted by ko-Bizen, and those by younger artisans aiming to build on the tradition and establish today's style, including works by holders of Important Intangible Cultural Properties. The exhibition will explore the charm of Bizen ware that is simple but capable of producing a wide variety of expression.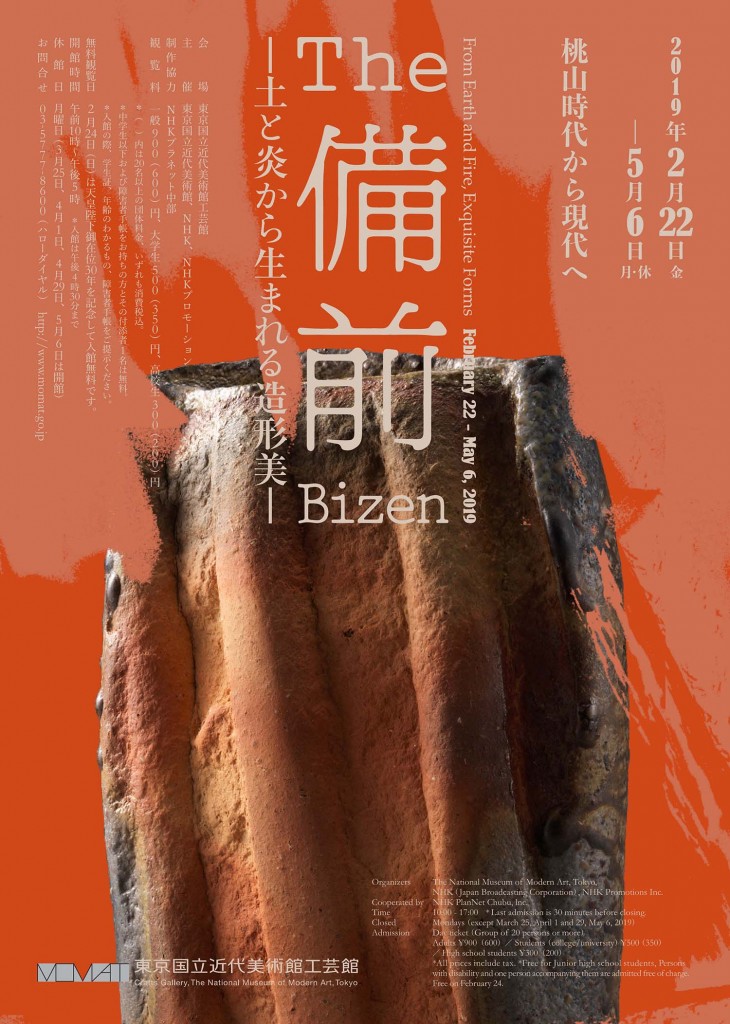 Events
Touch & Talk: Guided by Volunteer Staff Members
Looking at craft pieces, you may wonder what they are made of, or how they are made. You may also want to touch them. To meet such requests, Touch & Talk programs are given at the Crafts Gallery by volunteer docent. Since pieces and topics in focus vary each time offered, you can enjoy participation any number of times. We look forward to your joining us.
Date

Wednesdays and Saturdays during exhibition periods.
Free Program ( But Museum admission required. ) *Offered in Japanese only
●English guide is available upon request.
If you have a group of more than 5 people, an English-speaking volunteer staff will explain the exhibits to you and we will be able to provide a session in which the participants can actually touch the artworks. For further details, please refer to the "Touch & Talk" content.
Hours & Admissions
Date

February 22, 2019 – May 6, 2019

Time

10:00 – 17:00
※Last admission is 30 minutes before closing.

Closed

Mondays (except March 25, April 1 and 29, May 6, 2019)

Admission

Day ticket (Group of 20 persons or more)
Adults ¥900(600)
Students (college/university) ¥500(350)
High school students ¥300(200)

*All prices include tax.
*Free for Junior high school students, Persons with disability and one person accompanying them are admitted free of charge.

Organizers

The National Museum of Modern Art, Tokyo, NHK(Japan Broadcasting Corporation), NHK Promotions, Inc.

Cooperated by

NHK PlanNet Chubu, Inc.