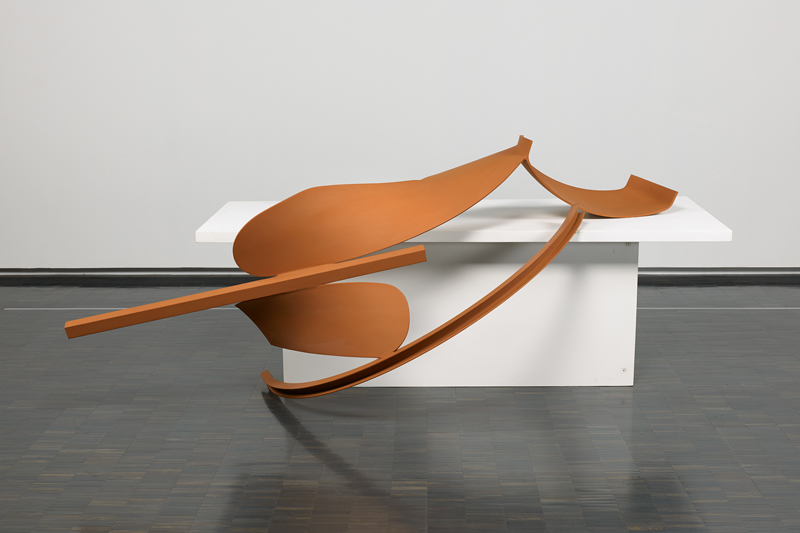 First, to list the components of the work: there are five steel elements joined by welding, three curved plates, one straight L-shaped beam, and one U-beam (channel beam) forming an arc. All are painted a warm shade of brown. Three-dimensional works made by assembling mundane, non-artistic materials such as these came to be known as constructive sculpture, beginning in the early 20th century with movements such as Cubism and Constructivism. In the work of Anthony Caro, aggregations of elements such as steel plates and frames do not form closed masses as in cast or modeled sculptures. By arranging multiple elements and establishing relationships among them, work in this mode creates "spatial forms" differentiated from the unbounded actual space around. In critical discourse this has been described with the terms "relational" or "articulation," and the critic Michael Fried stated, "…everything in Caro's art that is worth looking at is in its syntax." (Michael Fried, "Art and Objecthood," in Artforum [New York] 5, no.10 [Summer/June 1967], p. 20).
So, what is it that unites the five elements of this work into a single form? It is the presence of the pedestal, or to use Caro's terminology, the table. Caro referred to sculptures resting on pedestals or tables, which he began making in 1966, as "Table Pieces." Application of color weakens the material presence of the steel, and the piece's physical distance from the ground gives it a very light and buoyant feel. The form is entwined around the table, sticks out over its edges and droops toward the floor. Caro's description of "a sculpture seated on a table" is apt, and the Lap of the title refers to the legs from the knees up when seated, often used to support things, and can also mean "a loose hanging part of a piece of fabric." According to Caro, the height of the horizontal surface (the tabletop) and its edges are essential to the Table Pieces (Anthony Caro exhibition, Kasahara Gallery, 1979, p.4). In this work as in the others, these parts play a vital role, with the end of the steel U-beam arc supported by the edge of the table, and the horizontal line of the tabletop echoing the straight line of the L-beam descending diagonally to the left.
Usually, a pedestal is prepared for a sculpture after the sculpture is complete. When placed on a pedestal, the sculpture is distinct from the world around it, independent and self-supporting. By contrast, Caro begins with the table (pedestal) and then the sculpture takes shape around it. In this way, Caro devised a new sculptural approach and mode of expression, in which the table does not separate sculpture from the outside world, and does not "put it on a pedestal" of institutional or cultural consensus, instead serving as an indispensable structural element of the work.
---
(Gendai no me, Newsletter of The National Museum of Modern Art, Tokyo No. 633)
Release date :